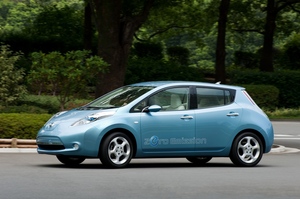 Nissan shrugged off last year's natural disasters and a strong yen to post an operating profit of 545.8 billion ($8.7 billion) on a record 4.8 million vehicle sales, surpassing rival Toyota's financial performance for the first time.
And the number two Japanese vehicle-maker predicts it can do better this financial year, forecasting a further 10.4 per cent jump in vehicle sales to 5.35 million units, and a 9.5 per cent lift in operating profit, to 700 billion.
While Toyota's profit dived 31 per cent to 283 billion in the 2011-12 financial year ending March 31, Nissan's operating profit crept up 1.6 per cent on sales of 9.41 trillion - up 7.2 per cent, says industry website GoAuto.
Nissan's global vehicle sales surged 15.8 per cent from 4.18 million units last year to 4.8 million in 2011-12, partly on the back of increases in emerging markets, especially China - the company's biggest market - where sales jumped 22 per cent to 1.25 million vehicles.
In Brazil, sales grew 94.8 per cent to 81,000 vehicles, while in Indonesia volumes climbed 41.8 per cent to 60,400.
In the United States, sales were up 11.8 per cent to 1.08 million units, while Nissan swam against the tide in the depressed European market, where its sales grew 17.5 per cent to 713,000 units.
At home in Japan, Nissan vehicle sales increased 9.2 per cent to 655,000 units, while other markets - including Australia - accounted for 826,000 units, up 16.4 per cent.
Announcing last year's result at the weekend, Nissan president and chief executive officer Carlos Ghosn said Nissan had delivered robust operating profits and record sales amid growing demand for Nissan models, brands and technologies.
"It is an even more encouraging performance, given the headwinds created by natural disasters, an over-valued yen and uncertain global economic conditions,"he said.
Ghosn said Nissan had begun to deliver on its Nissan Power 88 plan unveiled last year.
"Our financial performance, product launches and market penetration over the past 12 months demonstrate our progress towards sustainable operating margins of 8 per cent and 8 per cent global market share," he said.
This financial year, Nissan is launching 10 new products globally, including Altima, Pathfinder, Pulsar (Sylphy/Sentra), NV350 Caravan and a long-wheelbase Infiniti M hybrid sedan. Nissan's EV, the Leaf, recently went on sale in Wellington.