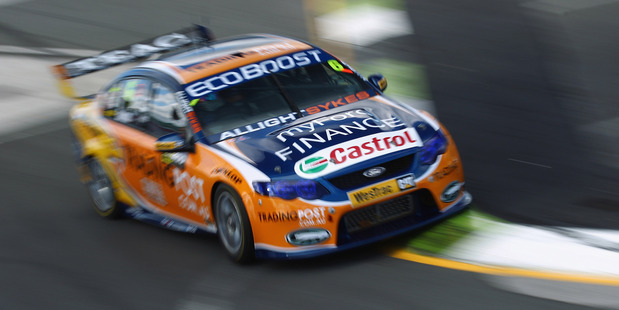 The good news for Holden fans is that three-time champion Jamie Whincup is off to his greatest V8 Supercars season start.
The bad news is that Whincup still finds himself trailing Ford's reborn Will Davison on the championship standings.
Never has Whincup racked up 825 points after three rounds of a season - and he has won three of the past four championships.
Yet the Holden star has become used to seeing Davison's tail lights ahead of this weekend's Perth round.
Incredibly, Davison is enjoying the best V8 season start since 2005 - and third-best in a decade - after claiming 94 per cent of the total points on offer to date (846 of 900).
Only the legendary Mark Skaife (97.61 per cent in 2002) and two-time V8 champ (now NASCAR driver) Marcos Ambrose (94.4 per cent in 2005) have boasted better stats in the past 10 years.
However, Davison does not have to be told fortunes can change quickly.
In 2009, life was sweet for Davison as a Holden driver after winning Bathurst with Garth Tander before finishing second just behind Whincup in the championship standings.
A year later, Davison couldn't take a trick as he crashed to 22nd overall for 2010, more than 1800 points behind series winner James Courtney.
Snapping up a drive with the Blue Oval's flagship Ford Performance Racing (FPR), Davison finished an encouraging seventh overall in 2011 - but nothing prepared anyone for what was to come this year.
With FPR teammate Mark Winterbottom, the pair have won four of the six official races this year.
Despite his form and pedigree - his late grandfather Lex Davison won the Australian Grand Prix four times - Davison was taking nothing for granted ahead of Perth's three races.
"Now we need to stay focused and not get ahead of ourselves and work mistake-free," Davison said ahead of Friday's practice sessions.
Certainly Davison won't have it all his own way at the 2.42km Barbagallo Raceway track which makes up in challenges what it lacks in length.
"It's a very tricky track. It is one of the most abrasive surfaces we go to," Davison said.
"There's a lot of sand on the track - there's plenty off it. You don't want to be buried in one of the gravel traps - they are extremely deep.
"And it's warm so the biggest thing is tyre life and car balance."
For good measure, rain is predicted for the weekend event which will feature both hard and soft tyres in all three races.
Stats might be kind to Davison but, if he digs deeper, he will find only three drivers in the past decade have won the championship after taking the series lead into the fourth round.
And Whincup - along with teammate Craig Lowndes - have won four of the past five Perth races, and the past five pole positions in WA.
Barbagallo Raceway will be used for the first time since its $15 million redevelopment.