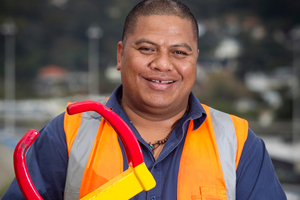 A voluntary code of conduct for wheel clampers will not stamp out bad industry practice and the Government should take stronger action, consumer groups and a recent complainant says.
Yesterday Consumer Affairs Minister Simon Bridges said he had met clamping industry members and a voluntary code of conduct would be drawn up.
The Herald has run a series of articles on wheel clamping and many readers have accused clampers of intimidation and abuse.
More than 80 people have contacted the Herald to allege unfair treatment by clamping companies.
In some cases, agents snuck up behind cars while people were still inside to clamp a wheel, and others said they were abused when they could not pay the on-the-spot fine.
When contacted by the Herald last week, Mr Bridges said he had sought urgent advice on how to address a "subject of growing concern".
Yesterday he said the code was a good starting point and would give consumers a benchmark.
He met the main clampers, Tournament, Wilsons and Compromise Group (New Zealand Wheel Clamping Ltd) - the company subject to most complaints investigated by the Herald.
The companies will develop the code themselves and will report progress to Mr Bridges in a month.
Mr Bridges gave them copies of the West Australian and British codes of conduct for wheel-clamping, which he said had worked well.
So far there was only broad discussion about what the code might include, but he said he was optimistic the industry would opt for one that set "best practice", not minimum, standards.
"With any code the ministry and myself as minister will be monitoring how it performs, and ... we always continue to have regulation as a backstop."
But one person who was clamped recently, Meto Pooi, said a voluntary code of conduct did not go far enough.
"They should have abolished the bloody thing and make it illegal. Why not use tickets, what's wrong with that? The police are doing it, the council are doing it."
Mr Pooi still has a clamp belonging to NZ Wheel Clamping after he put a spare wheel on the family car when it was clamped in a Manurewa carpark about three weeks ago.
His wife had parked in the carpark to go to the bordering fruit shop, but first ducked around the corner to get a meal for their three children.
When she returned 10 minutes later an agent had clamped her car and demanded $250, with the ensuing argument reducing her youngest to tears.
He said after the clamper and the company's call centre told her and Mr Pooi to "f*** off" if they didn't have the money to pay immediately, he changed the wheel and went home.
He offered to return the clamp to NZ Wheel Clamping, but was told he would be reported to the police for theft.
This week he finally managed to remove the clamp.
"I had to deflate the tyre, and get the wife to jump up and down on it while I tried to pull. And it finally came off ... that was just an awesome feeling."
Yesterday, the Automobile Association, Consumer NZ and the Labour Party all called on the Government to regulate the industry.
AA spokesman Mark Stockdale said regulations under the Transport Act should be extended to cover all parking companies, not just council-owned parking.
"The public don't care whether they are parking at a ... privately-owned carpark. They want to know what the rules are, just like we need to know what the rules are on the road."
But Sean Hika, group manager at NZ Wheel Clamping, said the code would be a positive move. "You can always do things better, and some complaints are genuine, there's no doubt about it."
FRAMING RULES
* A voluntary code to be developed by industry.
* Consumer Affairs Minister will review progress in a month.
* Consumer groups say tougher regulation is needed.