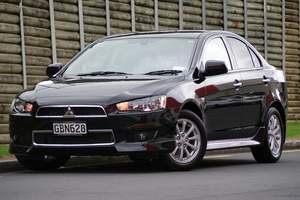 Is it okay to like this car? I feel a bit self-conscious about it, because by conventional motoring-writer measures the Mitsubishi Lancer SEi is not very good.
The 115kW 2.0-litre engine is fine for performance but sounds thrashy when pressed into the upper reaches - which happens often, because the Lancer has a gearless Continuously Variable Transmission (CVT).
That's fine for slow driving and helpful for fuel economy, which is good but not great at 7.3 litres per 100km. But it also means that hard acceleration and any attempt at enthusiastic driving over undulating roads results in lots of noise and not much else.
There are other problems. The road noise from the Yokohama 16-inch rubber is horrific on Kiwi coarse-chip roads.
The Lancer's chassis is actually pretty impressive - it steers with precision, tracks nicely through corners and has lots of grip. But the ride is below-par, the suspension crashing noisily into any disturbance in the road surface.
A write-off, then? Not quite, because I can't help but have a bit of a soft-spot for the Lancer SEi. I'll admit it's partly the retro name - that SEi badge revives a monicker that dates back decades, to pseudo-luxury Lancers of the past.
I was a bit tickled by the pretend-prestige appearance of the test SEi, in glossy black with bright chrome detailing on the grille and windows - a pleasing change from every carmaker thinking its small cars have to look sporty.
But most of all I'm impressed by the fully loaded equipment ethos. The Lancer SEi has been launched at a special price of $29,990 (plus on-road costs), yet comes with leather upholstery, Bluetooth, gloss-black cabin-trim inserts, climate air conditioning, tinted glass, auto-dimming rear vision mirror with integrated reversing camera, and a colour LCD information display in the dashboard. It also carries the full suite of Lancer safety features, such as seven airbags and stability control.
None of this makes it any better to drive. But for the (dare I say it) older private buyer who remembers the SEi from ages ago, or the fleet customer who wants maximum kit-count and carpark-status on a very tight budget, this Lancer just ticks so many boxes.
Given that the Lancer is really half a size up on your traditional small-car segment, the SEi boasts the kind of value/equipment combination you might expect to get from one of the emerging Chinese brands.
Except that the Lancer is also a known quantity from an established brand.
An okay car, a really great deal and a safe buy. At least at that special launch price. Realign to the mid-$30k mark, Mitsubishi, and I think the SEi would look a lot less appealing.
The bottom line:
The driving experience is average to say the least, but the Lancer offers a proven platform and an unbelievable list of standard equipment for under $30k.
Alternatives:
Holden Cruze CDX $34,500
Honda Civic 2.0S $38,500
Hyundai Elantra Elite $39,990
Mazda3 GSX $35,295
Subaru Impreza 2.0i-L $39,990