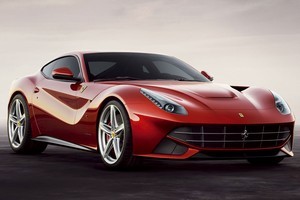 Ferrari has pulled the covers off its latest supercar, the F12 Berlinetta - and it's faster than any other road car the company has made.
The iconic Maranello manufacturer kicked off a teaser campaign in February, hinting at a new high-performance replacement for its 599 that would be shown for the first time at the Geneva Motor Show which opens next week.
The F12 Berlinetta is powered by a cutting edge mid-front mounted V12 that, despite its 340km/h performance, emits only 350g/km of CO2 - not earth-shattering when compared to mass-produced hatchbacks, but impressive for a car that will hit 100km/h in just 3.1 seconds, and double that in 8.5 seconds.
A 6.2 litre, naturally aspirated V12 mated to Ferrari's F1 dual-clutch transmission delivers a massive 544kW and maximum torque of 690Nm - which Ferrari claims is available from 2500rpm through to the 8700rpm redline.
Ferrari has revised its traditional transaxle layout to better suit the performance that has seen the F12 Berlinetta lap its Fiorano test circuit faster than any Prancing Horse road car before it.
Scaglietti designed a new spaceframe and bodyshell with a palette of 12 alloys, improving structural rigidity by 20 per cent over the outgoing 599 - and a dry weight of just 1525kg.
The wheelbase has been shortened and the engine, dash and sets are set lower within the chassis, making for a smaller vehicle and creating impressive balance with 54 per cent of weight over the rear wheels.
It boasts an impressive list of technical innovations, including an 'Aero Bridge' which uses the bonnet to generate extra downforce and Active Brake Cooling, which opens vanes to the brake ducts at very high temperatures, and reduces drag. The F12 Berlinetta is hyper-slippery, with a drag coefficient of 0.299.
Other features on offer in the new V12 include latest-generation carbon-ceramic brakes and its clever active magnetorhelogical suspension control system - also used on the 458 Italia.
- NZ HERALD STAFF