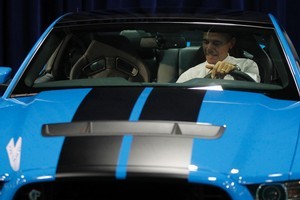 The Association of Global Automakers (AGA) is cranky that US President Barack Obama looked only at Ford, Chrysler and General Motors vehicles at the recent Washington motor show.
The AGA flew in executives from around the world when it was told Obama would visit the show. But he stuck to American iron like the Chevrolet Corvette ZR1, Ford Mustang Shelby GT500 and Chevrolet Silverado.
AGA chief Michael Stanton said many members had "bent over backwards to meet the request from the White House". Stanton also pointed out that AGA members have invested US$43 billion ($51.4 billion) in the US and employ over 80,000 workers.
Peers a hazard
Research says American teenagers may have been the victims of peer pressure just before a crash.
The Children's Hospital of Philadelphia and US insurance giant State Farm did two studies - the first polled 198 teens and found those who were more likely to have friends in a vehicle with them were apt to call themselves "thrill- seekers".
They also said they didn't want their parents to set rules or keep an eye on them, and they were less likely to perceive risks associated with driving.
The second study surveyed 677 teen drivers involved in serious crashes: 71 per cent of males and 47 per cent of females said they were distracted by their passengers before crashing.
Brake takes a Break as Mercedes tests new models
Mercedes-Benz showed off its CLS Shooting Brake concept (right) at the Beijing motor show in 2010. The carmaker labelled it the "Shooting Break", although such a vehicle has been known as a "Brake" since Rolls-Royce invented it in 1910 to carry shooting parties and their gear. The term "brake" originally referred to a chassis used to break in horses.
Whether Benz opts for "Break" or "Brake" doesn't matter. What does is that the carmaker has been testing a production-ready carry-all. Talk is there will be two versions: the CLS550 with a 4.6-litre twin-turbo V8 engine, and the CLS63 AMG with a 5.5-litre twin-turbo V8.
Carmakers splash out for Super Bowl
American automotive and beer companies spend the most money on advertising during the Super Bowl, the annual football extravaganza.
Ratings agency Nielsen broke down the advertising numbers over the 2007-2011 Super Bowls and found that carmakers spent US$172.2 million ($206 million), versus beer companies' US$126.9 million. The average cost of Super Bowl advertisements from 2007 to 2011 rose nearly 40 per cent to US$3.1 million. A US report says the average cost of the 30-second ads this year was around US$3.5 million.
General Motors' Wild Ride ad last year had 119,628,000 viewers, making it the most watched advertisement of all time, says Nielsen.
We are the world
* The US government ruled in 2007 that, starting in 2011, transport fuel must include a cellulose-based ingredient. Fuel companies that failed to provide the "greener" mix would be heavily fined, it said. But 2011 has come and gone, and the special ingredient is still in test tubes - but the fines are very much alive. The US Environmental Protection Agency says fuel companies will still have to pay the penalties for non-compliance, even though the ingredient is still two or three years from development.
* Adam Hall, 34, was accused of vandalising his ex-girlfriend's car, including scratching the word "sult" into the bonnet. The Vermont man denied involvement until an officer asked him to write down the sentence: "You are a slut." Hall scribbled: "You are a sult" and was promptly charged with malicious mischief.
* A Minnesota man was found to be too drunk to safely operate a Zamboni, a truck-like machine used to smooth the surface of an ice rink. But state law is murky on whether or not the 39-year-old can be charged. The Duluth News Tribune reports the machine was weaving around the rink and smacking into walls.