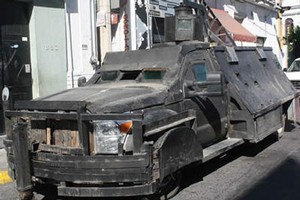 What do Barack Obama, the Pope, drug lords and Pippa Middleton have in common? Their cars.
Being targets of wannabe assassins means they have to drive vehicles that can cope with bullets, bombs and missiles - so they drive the most secure cars in the world.
Some of the vehicles are custom-made for the client, while the drug cartels have homemade tanks to drive around.
But as the US President found out, there's always an unexpected hazard - his armoured vehicle may be able to withstand a missile, but a down ramp halted the stretched Cadillac in Dublin last year, grounding it as it was leaving the parking lot of the American Embassy. Oops!
Beware of The Beast
US President Barack Obama's $373,000 limousine, nicknamed "The Beast", is armour-plated and designed to protect the President from bullet, rocket, suicide bomber, missile and biological attacks.
It is fitted with military-grade armour at least 12cm thick, has run-flat tyres and the fuel tank is leak-proof and invulnerable to explosions.
The Beast is sealed against biochemical attacks and has its own oxygen supply and firefighting system built into the boot.
And if the going gets tough, the Cadillac can also fire a salvo of multi-spectrum infrared smoke grenades.
It's the Popemobile
After the attempt on the life of Pope John Paul II in 1981, the security of papal vehicles was dramatic improved and the famous "Popemobile" was created.
Pope Benedict XVI travels in a modified Mercedes-Benz M-Class with a glass-enclosed "room" that has been built into the back of the vehicle with space for a security agent.
The Popemobile's security features include bulletproof glass windows and roof, and armoured side panels and underbody.
Tanks a lot
In Mexico, drug lords are building their own armoured tanks that include .50 calibre machine guns and grenades. Illegal garages add 2.5cm- thick steel plates to a standard chassis of a Ford F-150 to create "El Monstruo" tanks.
One truck seized last year by the Mexican police had room inside for 12 gangsters, with two turrets on top and six lateral firing ports. Others are cruder, resembling armoured SUVs that can withstand rounds from M-16s and AK-47s.
Pippa's bootyguard
After all the attention she received at the royal wedding - and after it - Pippa Middleton's parents were worried about her, so they have reportedly bought her an armour-plated car. The millionaire Middletons were looking for a $181,000 bomb-proof BMW or Audi with bulletproof windows that would be able to keep moving even if the tyres were shot out.
Unfortunately, none of the car's fittings will enable it to evade the ever-present paparazzi.