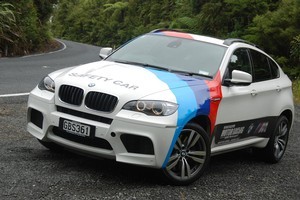 When BMW built the X6 many people said it had lost the plot by creating a niche for which there'd be no buyer. Who wants an SUV that won't go off-road, a wagon without a cavernous boot, or a high-riding sports coupe that weighs over two tonnes?
And who would want this high-performance X6M version? Mash the go pedal to the floor and you briefly take off as 680Nm slams to the tarmac and catapults you into next week, fighting whiplash, the wheel and a lightning attack of antisocial hoonery. This car isn't made for speed limits.
Which is why I'll be at Hampton Downs for the NZ Festival of Motor Racing Celebrating BMW Motorsport from January 20-22 and 27-29.
There will be an Historic Touring Car Challenge, a class for the 1980s E30 and one that outlines the history of BMW sedan racing in this country. Drivers like Jim Richards and former F1 ace Chris Amon will be on the track. And this X6M will keep them honest - it's the safety car, and it'll howl round along with the focussed racers. It can do so because it fields a 4.4-litre V8 motor with twin turbos nestled between the two cylinder rows.
It boasts 408kW and the ability to hit 100kph from rest in 4.7 seconds. That's quicker than a manual M3 coupe, courtesy of a torque peak which surfs between 1500 and 5650rpm and hands over to peak power until 6000; this mighty engine delivers its all across a 4500rpm range via an impressive six-speed auto transmission.
Trouble is, though it feels unstoppable it rarely seems that fast. I'd like a bit more drama to the soundtrack from the cabin - it's a head-turner if passersby are any judge - and a touch less steering resistance at slower speeds.
Once the novelty wore off I'd also have liked a more rewarding experience on real-world roads. Thanks to sticky wide tyres, four-wheel drive and dynamic performance control that distributes power between the rear wheels to help you accelerate out of bends, you have to go truly feral to reach this car's sweet spot.
But the X6M isn't about out-racing the racers. It's about effortless driving.
Trouble is, there are more practical luxury runabouts and nimbler sports cars for the $248,000 price ($253,660 as tested). The X6M doesn't carry enough luggage to fulfil the former task. It's too OTT for the latter. And no matter how you drive it, you'll offend any eco-warrior who crosses your path.
You could try telling them this car's 16.3l/100km thirst (BMW claims 13.9) is doing them a favour. The more petrol used, the more urgent a viable alternative to fossil fuels and the earlier that low-emissions fuel-frugal future will arrive.
If the suggestion meets aggression, drive off - their eco-electro-solar-hybrid commuter won't keep up.