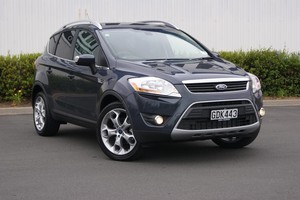 Curiously, the first test car I stepped into after getting off a plane from the Los Angeles Motor Show was the new Ford Kuga.
One of the most notable cars at the event was the all-new Escape - another One Ford global model that will replace Kuga in Europe and Escape in the rest of the world.
So while the Kuga you see here is new to New Zealand, it's already obsolete, being based on the platform of the previous-generation Focus.
In years past, the European-sourced Kuga has been considered too expensive to make a case in New Zealand. The old Escape (a completely different car) was made in Thailand and much more cost-effective. It was also horrible.
Anyway, it's fair to say that Ford New Zealand got a pretty sweet deal on these end-of-line Kugas. Nothing wrong with that, as long as we're honest about what they are.
The Aussies are getting the same deal, although the Kuga won't be launched there until next year. At least we're ahead of somebody.
One qualifier, though - a good deal doesn't necessarily mean bargain prices. The single Kuga Titanium model offered here costs $53,990. You get a few goodies for that: a retuned version of the Volvo-designed 2.5-litre five-cylinder turbo engine from the previous Focus XR5, plus a premium interior package that includes high-grade leather upholstery, dual-zone climate air-conditioning, fold-up tray tables for the kids in the back and Bluetooth connectivity with voice control.
Slide into a Kuga straight after driving the all-new Focus and you'll immediately see the generational gap in interior design and quality.
The Kuga is stylish enough but the shapes and switchgear are not as impressive as the latest Focus.
But Kuga gets the fundamentals right. It's comfortable and practical, with a 60/40 partitioned rear seat and handy split tailgate, with separate-opening glass section. There are a couple of curious omissions: no driver footrest and, while the Kuga has keyless start, it does not have keyless entry.
The five-pot engine is packed full of character and gives a nice growl under load, although you shouldn't expect the overt performance and responsiveness of the old Focus XR5: the powerplant has been detuned to 147kW/320Nm and is matched to a five-speed automatic - a conventional automatic, not the dual-clutch gearbox used in the latest Focus and Mondeo.
Still, it's fun thing to drive - certainly a contender for the best-handling and riding car in its segment. Ford seems to have the magic touch when it comes to chassis engineering and the Kuga is no exception.
Fuel consumption might be a problem. The official figure of 10.3 litres for 100km seems a bit optimistic in the context of my test, which yielded 13.2 litres for a variety of driving conditions. That's a lot of petrol to feed a compact crossover - then again, that engine is fun.
This issue does highlight what's really lacking in Kuga - a diesel engine option. There was a very good one in Europe, but that doesn't seem to be part of the supply deal negotiated by Ford New Zealand. Pity, because so many of the Ford's rivals give you an option.
Assuming you've done your research, Kuga is an appealing stopgap in a crucial market segment. Expect it to be with us for a little while - the new Escape is still to be officially confirmed for New Zealand (yeah right) but isn't likely to land until 2013.
The bottom line:
Lots to like about the Kuga: an appealing addition to the compact-crossover market, with great style and a surprisingly sporty feel. As long as you are aware you're not getting the latest and greatest.