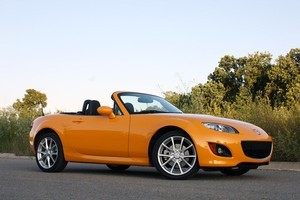 Engineers say the Mazda sports became heavier than its origins dictated
Mazda's next-generation MX-5 sportscar will offer a better power-to-weight ratio than ever, even without turbocharging, making it the quickest roadster Mazda has built, says Mazda Motor Corporation's most senior engineer, Hirotaka Kanazawa.
The all-new SkyActiv-bodied MX-5 will weigh less than 1000kg.
The next version of the world's top-selling two-seater roadster is expected to be influenced by the design of the stripped-out MX-5 Superlight speedster concept that debuted at the 2009 Frankfurt motor show.
The variation featured a new body - with no roof, windscreen or A-pillars - designed at Mazda's European studio in Germany.
Although not as low as the 798kg rumoured to have been targeted, the new MX-5 is at least 130kg lighter than the present version, which weighs 1129kg in base soft-top manual form.
Kanazawa said the fourth-generation MX-5, expected in 2013, would be available in soft-top and hardtop configurations.
But he said the MX-5 would return to its roots as a sub-one-tonne sportscar while meeting all future emissions and safety standards by using the full suite of Mazda SkyActiv body, chassis and powertrain technologies.
"We will go below 1000kg.
"Since the first-generation MX-5 it got heavier and we want to go back to its origins."
Kanazawa said the next MX-5 would set a new power-to-weight benchmark without turbocharging, but did not rule out turbocharged engines for other - perhaps MPS-badged - models based on Mazda's SkyActiv-G petrol-engine family.
"We haven't decided that we are not going to do turbocharging, but first we intend to enhance efficiency with naturally aspirated engines.
"Yes, based on existing SkyActiv petrol engines we'd add turbo to increase performance. But for the next MX-5 we'd like to go back to its origin as a lightweight sportscar.
"Power is not so much, but easy to handle. We'd like to develop the next MX-5 that is easy to use, which is a strength of SkyActiv," said Kanazawa.