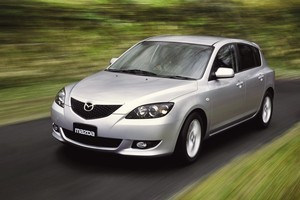 The dilemma
Frank is a Holden V8 man and as far as he's concerned there's no other car worth buying.
Trouble is, his wife and 20- something daughter don't quite share his point of view. For some time now, they've been sharing an older, high-mileage Citroen which has just had one breakdown too many and has to go.
That's "go" as in restored to running order and then banished forever from their sight. It has more than 200,000km on the clock, so maybe you can't blame the Citroen.
"Please suggest some compact Japanese five-door hatchbacks around five years old that the girls can share," pleads Frank, who doesn't like the idea of them driving his SS but won't say so.
"We'll look at manual or auto. I've heard good things of the Mazda3."
The budget:
About $15,000
The shortlist
Ford Focus
Underneath the body of a Ford Focus lurks a Mazda3-Axela (see below). Well, not quite, but both cars use Ford's global C1 platform, also shared with the Volvo S40. Focus has been a big success for Ford, which has offered it in various guises in New Zealand, with a 1.6-litre or 2.0-litre petrol engine and a 1.8-diesel. We'd go for the 2.0. It's a good-looker, too.
From $11,000
Mazda3 and Axela
The Mazda3, known as the Axela in the world of used imports, was introduced in 2004, replacing the well-regarded 323 (Familia and Protégé on import lots). Hugely popular worldwide, it made a positive impact here in the new and used-import sectors. There's a big price range for 2005-2006 1.5-litre models. Some apparently good 100,000km examples are listed for around $10,000; others with lower mileage have stickers of $16,000 or more. High-performance versions are incrementally dearer, but might be a more fitting garage mate for the Commodore SS.
From $10,000
Toyota Corolla
What's left to say about the ubiquitous Corolla? Its popularity means that heaps are on the market in all sorts of trim and specification levels, thanks partly to the used imports. It's hard to go wrong with any version, but Driven's steering our couple to a 1.8-litre GL.
From $12,000
Driven recommends
Three worthy contenders, but one stands out. The Corolla is solid but unexciting and everyone seems to know someone who has one.
It also enjoys a huge parts and service infrastructure. The Focus injects some added driving excitement into the segment and is well-liked.
But the Mazda3-Axelis wins by a head because it has the good points of its rivals along with superb styling, a roomy cabin and many practical attributes. It's one of the best cars Mazda has made.