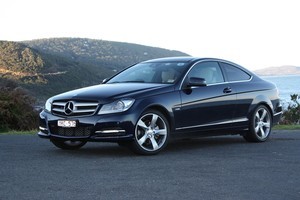 Three new model series from Mercedes-Benz have passed the Euro NCAP crash tests with flying colours, and the German company also picked up top prizes for its innovative safety features.
The B-Class and M-Class have been rated the best in their vehicle classes, and the C-Class Coupe has received the top rating of five stars for outstanding occupant protection.
Mercedes receives several Euro NCAP Advanced prizes for safety innovations including Pre-Safe and the radar-based collision warning system Collision Prevention Assist in the B-Class.
"The Euro NCAP awards are a striking recognition of the safety level of our vehicles, and we're very happy about them," says Ulrich Mellinghoff, head of Mercedes Safety Development.
"But the standardised crash tests cover only a small part of the real course of events leading up to and during road accidents. For this reason Mercedes-Benz designs all model series employing some 40 different accident constellations, most of which we define based on the experience of our in-house accident research.
"Additionally, focusing on anticipatory systems and accident avoidance we equip our vehicles with systems which are not even taken into account in the rating."
These systems include the Pre-Safe system, available as standard in the M-Class or as an option in the B- and C-Class.
The Euro NCAP Advanced prize was introduced a year ago for systems with "scientifically proven safety benefits" which are not taken into account in the current evaluation system.
That includes Pre-Safe, which becomes active in critical situations and uses the time before a possible accident to initiate preventive measures. If a rear-end crash threatens, the Pre-Safe Brake can become active, warn the driver and, if the driver fails to react, reduce the severity of the impact through autonomous braking.
These two systems are now available also in the M and C-Class (Pre-Safe and Pre-Safe Brake) as well as the B-Class (Pre-Safe).
Now further assistance systems which can help avoid an accident or reduce its severity have won the distinction. They include the standard-fitted radar-based collision warning system Collision Prevention Assist with adaptive Brake Assist in the B-Class.
As a world first in the compact segment, the B-Class is provided at the factory with this assistance system, which lowers the risk of rear-end collisions. Collision Prevention Assist gives a visual and acoustic warning to alert a driver to obstacles, prepares the vehicle to brake, and assists the driver during braking according to the situation.
Another Euro NCAP Advanced award was given to Mercedes-Benz for the drowsy-driving detection system Attention Assist. This recognises when the style of driving changes because of drowsiness. The driver is then reminded to take a break.
New Zealand Mercedes owners already know the benefits of the safety features in the C-Class Coupe while the new B- and M-Class models will be launched here next year.