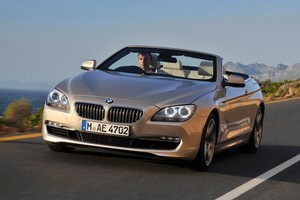 What is it
BMW'S 6 Series convertible uses 550i chaDssis and suspension clad in a sleek skin topped by a Karmann-built fabric roof with stylish rear buttresses.
The 4.4-litre 300kW/600Nm V8 engine matched to a ZF eight-speed auto is a combo fitted to several BMW models but the cabin is unique, with its contrast-stitched leather and deep seats.
The rears are more useful than expected. A 1.6m driver could squeeze a 1.6m passenger behind them, but leg room is limited, and rear three-quarter vision left is obstructed by the C-pillar. A barrage of cameras assist all-round view when parking.
We like
This engine's a goody; capable of creamy cruising or in-your-face brutality with sport settings selected.
I prefer it in a more rigid car, like the coupe that launched this month, but there's no denying the pleasure of switching on the heated seats, dialling up the hot air, dropping the roof on a crisp winter night ablaze with stars, then flinging the beast down a moderately bendy stretch of road.
You certainly know you're alive.
We loathe
Though this 650i convertible is an excellent GT and a powerful performer in a straight line, it's not as responsive or agile as a keen driver may like.
The multi-adjust seats with separate movements for upper and lower back and side bolsters still can't cope with a narrow back or hips - not all owners are built like Lomu.
Oh yes, the price - $248,500 as standard, or $262,500 as tested, including integral active steering and wind deflector, and $1750 for a six-stack DVD changer.