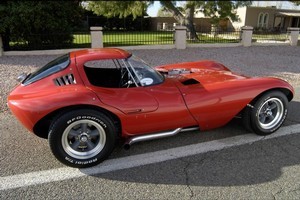 Meet the Cheetah, the American sportscar that was never meant to be.
It was conceived in the early 1960s as a Chevy-backed answer to Ford's Shelby Cobra but after the factory suffered a fire in 1965, General Motors pulled its support.
Fast-forward to 2007, when Cheetah's creator Bill Thomas (who died in 2008) authorised an outfit in Arizona called BTM to build a series of "continuation cars" or officially sanctioned replicas of a small-volume car long out of production. BTM never got the project off the ground and closed up shop. Tooling and licences are now up for grabs, but an online auction that included everything a new investor would need to restart production failed to attract a single bid after starting at US$120,000 ($150,500).
Making a splash
Kodiak Brown, Ginger Ale and Frosted Glass are among Ford's new colour choices for its upcoming vehicles.
Ford says colours should mirror the personality of the vehicle.
Kodiak Brown is a "deep brown with slight warm highlights". The name comes from the Alaskan Kodiak bear.
Ford has not said which vehicles will, um, bear the colour initially.
Ginger Ale will make a splash on the redesigned Ford Escape next month. The colour is "a classic gold neutral with slight green undertones".
Frosted Glass will be a signature colour for the Ford Focus Electric car due out this year. It is an icy light green.
There is rising demand for new shades. Ford's Lime Squeeze on the 2010 Ford Fiesta is one successful example.
Soft touch of class from Mercedes-Benz
Mercedes-Benz is reportedly going to use cashmere and silk among traditional materials in the interior of its next-generation S-Class.
The new sedan will also come with a larger, more upright grille design, previewed by the F700 concept from a few years ago.
Expect the Merc's face to be chock-full of LED goodies, too.
Hot time on ice
The Guinness Book of Records has recognised a new time for the fastest overland journey to the South Pole.
Two Toyota Hilux trucks travelled 2323km across the Antarctic High Plateau in 108 hours in December last year, at an average speed of 21km/h. The plateau is 10,000m above sea level.
The Arctic Trucks Expedition's AT44 trucks were prepared by Scandinavian company Arctic Trucks. It modified the 3-litre turbo-diesel workhorses to carry 1000 litres of fuel, 275 litres in tanks and the rest on the truck beds.
The Expedition AT44 gets its name from 44x18.5 tyres fitted to 15-inch rims and run at pressures as low as 2psi. Besides carrying up to 1.3 tonnes, the trucks towed an additional 1.5 tonnes on a trailer. The AT44 Hilux weighs in at 2254kg and managed about 56.5 litres/100km, or 5mpg, in the snow.
Racing 110 years
Ford will celebrate 110 years of motorsport at the SEMA show in Las Vegas next month. The line-up includes the Le Mans-winning 1967 GT40 MkIV, Parnelli Jones' 1970 Mustang Boss 302, the Lotus in which Jim Clark won the 1965 Indy 500, various John Force Funny Cars and the winning race car from this year's Daytona 500.
Back in 1901, Henry Ford took his home-built race car named Sweepstakes and entered a 16km race at the Detroit Driving Club against the favoured Alexander Winton. Ford ended up winning the race and the victory garnered attention from investors that helped launch the Ford Motor Company.
Hurricane set to put wind up show-goers
Hyundai is setting itself up for another big showing at this year's SEMA show in Las Vegas, but while its slick Veloster is the new star, the Genesis Coupe remains its performance showpiece.
The Genesis Hurricane SC is a collaboration between Hyundai America's tech centre, Magunson, Harman and Kiwi driver Rhys Millen's RMR.
It will be presented with a bunch of Hyundai tuner cars and will show off a supercharged version of Hyundai's stroppy 3.8-litre V6.
The blower makes the Hurricane good for more than 355kW and, with Torvec's clever IsoTorque differential installed, it managed to be a full second quicker around the tricky road course at Hyundai's proving grounds.
Rhys Millen Racing provided the front bar, grille, skirts, bonnet and boot, while Enkei and Hankook added the stunning 19-inch rims. Being a SEMA car, it's all about the bling and is fitted with a high-end Lexicon audio system and a leather-meets-blue-suede interior from Katzkin.
Insurance company left eating Ferrari-wrecking feds' dirt
More on the tale of the FBI and US Department of Justice being sued for wrecking a Ferrari F50.
The F50 was stolen from its owner in 2003, after which the insurance company, Motors Insurance, reimbursed the owner for the loss.
The feds then recovered the car during a sting operation and held it in FBI custody in Kentucky.
At some point, it needed to be moved out of its impound garage, but instead of making it safely to another garage, it got wrapped around a tree with an FBI agent at the wheel.
The insurance company sued the two agencies, alleging that the car was being taken for a joyride.
The Chicago Tribune reports that a judge has ruled against Motors Insurance, saying that law enforcement has immunity when it comes to property in its possession, and that even though "the object was to control and preserve relevant evidence", it apparently doesn't matter what happens to that evidence or for what reason.
Suzuki seeks divorce from VW
German carmaker Volkswagen said it wanted to keep its stake in Suzuki after the Japanese company set an ultimatum that could mean the end of their troubled two-year alliance.
Suzuki and VW have been squabbling for months, and the Japanese carmaker has asked VW for a divorce.
Last week it served VW with a notice of breach of contract, demanding the German company give it access to key technologies within weeks.
If VW fails to do so, said Suzuki, it must sell back its stake and quit the alliance. VW is Suzuki's biggest shareholder.
"Volkswagen will not be making any changes to its shareholding in Suzuki Motor Corp," VW said.
"The discussion between both parties will be exclusively conducted internally."
VW bought a 19.9 per cent stake in the Japanese carmaker in 2009 for about 1.7 billion ($2.9 billion).