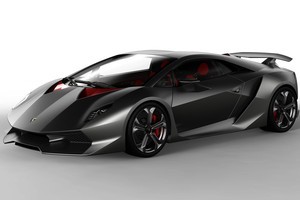 Hot on the heels of unveiling the most powerful Gallardo yet, Lamborghini boss Stephan Winkelmann has announced its concept Sesto Elemento will go into production.
After debuting the stunning machine at last year's Paris Motor Show, Winkelmann says he's been inundated with customers wanting one.
And the Frankfurt Motor Show today, it was announced that they can - if they're lucky.
It's almost getting beyond supercar territory, throwing 425kW (570hp) at a chassis weighing 999kg - meaning a 0-100km/h sprint of just 2.5 seconds.
The Sesto Elemento fits with Lambo's newfound taste for handling and acceleration, a move away from the previous holy grail of top speed.
It tucks a motorsport-bred drivetrain, Lamborghini's advanced four-wheel-drive system and a V10 engine inside a mostly-carbon fibre monocoque shell.
"We are proud that what a year ago was just a 'technology demonstrator' of future super sports cars," explains Winkelmann, "even though in working order, will become a small series reality."
"Only 20 units of the new Sesto Elemento super sports car will be produced, and will be destined only for track use. We're planning to deliver the first cars at the beginning of 2013."
For those not keen on dropping a large wedge of cash on a track car (that's likely to be an invite-only purchase anyway), the Lamborghini Gallardo LP 570-4 Super Trofeo Stradale will be available to everyone, at least everyone with a super-sized bank balance.
The only real problem will be fitting that lengthy name on the rego form.
- NZ HERALD STAFF