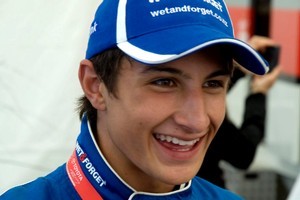 Young Auckland open-wheel racer Mitch Evans has experienced all the highs, and most of the lows, in his first foray into European motor racing.
Evans is competing in a new Wings and Slicks GP3 category, established last year to help drivers develop the necessary skills to move on to GP2 and then Formula One.
Since its inception a year ago, the series appears to have supplanted the more established Formula Three championships.
GP3's main advantage is that all the races are a support class for F1, allowing the drivers to gain experience at racing in an F1 Grand Prix.
As an added bonus, all the up-and-coming youngsters can strut their stuff in front of F1 team owners, principals and drivers. This is something Evans is experiencing at the moment as he contests the series with MW Arden, headed by Red Bull Racing F1 driver Mark Webber and Red Bull Racing team principal Christian Horner.
Evans, a graduate of the Toyota Racing Series, started the season with a hiss and a roar back in May and June, setting the fastest time in qualifying, finishing in the top three and eventually winning his first race.
His early-season consistency saw him lead the championship before settling into second at mid-season. But he has run out of favour with the mechanical gods of late.
"The back half of the season has been pretty frustrating, that's for sure," said Evans from Monza, Italy.
"Ever since Valencia, we've had mechanical problems all the time and every race we've had something go wrong with the car.
"It's been out of mine and the team's control, and been really frustrating. We've always had really good pace and, when nothing has gone wrong, we've been able to show our true potential.
"Obviously what happened at the Nurburgring [the team was caught on the grid changing tyres after the allotted time and penalised with a 10sec drive-through penalty] was a shame but, in the end, it's a team sport and sometimes these things happen when the team's under pressure.
"... [we] put all the problems behind us and, overall, we think we've done a pretty good job."
Evans has an old head on his shoulders for a 17-year-old and isn't allowing the mishaps of the past to influence how he's looking ahead.
His philosophical approach to misfortune would be a good model for those who fail to realise that disappointment can be just as good a teacher as glory.
"Every time something has gone wrong, we've been right up there and I guess that proves our potential and, hopefully, this weekend [in Monza] we'll get a smooth run.
"Mentally, it's quite interesting to see how you cope with the disappointment of being quick but then something outside of your control goes wrong. Obviously our speed is very quick but, with all these mechanical issues popping up, you start to think, 'When is all going to end?'
"The only way to deal with it is to be positive and just move forward. When it's out of your hands, it's very frustrating and, sometimes, you feel like you're being punished for something you haven't done.
"It can happen to anyone and, hopefully, this year I'm getting all my bad luck out of the way. However, I'm sure it won't be the last time some sort of bad luck happens. Anyway, we'll just keep fighting on."
This weekend is the final round of the GP3 championship in Monza, and as Evans has slipped to seventh on the championship table - 45 points behind leader Valtteri Bottas - he's not going to win it this time around.
The series seems to be over before it started and, in the blink of an eye, five months of racing is about to come to an end. "The season has gone ridiculously quick and before we knew it we were halfway through the championship.
"It's been pretty full-on, but it's been good ... I haven't been to Monza before so it's all new to me. I have put a lot time in the simulator to get to know which way the track goes and get to know the corners.
"It's the fastest track we go to all year, so there'll be a lot of drafting and passing. I just really want to finish on a high note."
In just its second season, GP3 has thrown up 10 winners, including Evans, in the first 10 races this year. With stats like that, it wouldn't be stretching the truth too far to say the depth of talent is huge. And for Evans to have led the championship at one stage bodes well for his future in motorsport.
Results
GP3 points table:
1 Valtteri Bottas 52
2 James Calado 47
3 Nigel Melker 38
4 Alexander Sims 34
5 Adrian Quaife-Hobbs 33
6 Lewis Williamson 31
7 Mitch Evans 28
8 Nico Muller 27
Mitch Evans' record:
2008/09
* Second national Formula Ford championship
* Winner of the Manfield Winter Series
2010
* Winner of the Toyota Racing Series (TRS)
* Winner of the TRS International Series
* TRS Rookie of The Year
* Second Australian Formula Three Championship
2011
* International TRS Champion
* Overall TRS Champion
* Winner New Zealand Grand Prix