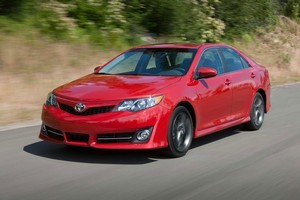 The Toyota Camry has been the best-selling car in America for nearly 15 years, its reputation for reliability keeping it on top even when the carmaker was hurt by major safety recalls.
But its lead has shrunk dramatically. Feeling the pressure, Toyota has unveiled the 2012 Camry, its first redesign of the sedan in five years. While Toyota hopes to create buzz by lowering the Camry's price, improving its fuel economy and adding new features, it may not be enough to keep the Camry No 1 in the increasingly competitive market for midsize sedans.
"The Camry is not a slam-dunk by itself anymore," says Jesse Toprak, vice president of industry trends and insights for car pricing site TrueCar.com.
Toyota showed off the new Camry on the internet and at events in cities around the world including Melbourne. It has given the car a sharper, more pointed bonnet, a quieter and roomier interior and more boot space. It's also offering Entune, a system that lets drivers access internet services like Pandora from their mobile phones using voice commands or an in-dash touch screen.
But critics say the styling is bland compared with edgier rivals like Nissan, Hyundai and Kia, and that Toyota saved money by using cheaper interior materials.
"There's nothing fundamentally wrong with it, but is that good enough nowadays? No, it's not," Toprak says.
The new Camry is due to arrive at US dealerships in early October.
Toyota has sold more than 15 million Camrys worldwide since it introduced the car in 1983 to compete with the Honda Accord. It quickly became a big seller in the US because of its reputation for reliability and good gas mileage.
The Camry outsold the Ford Taurus in 1997 and has been the best-selling car in America every year except for 2001, when it was eclipsed by the Accord. Even Toyota's embarrassing series of safety recalls last year and earthquake-related shortages this spring didn't knock it down from No 1.
Toyota's US sales chief Bob Carter says the company aims to keep things that way, in part by being aggressive on price.
Toyota has also tweaked the Camry's engines to get better fuel economy.
But it remains to be seen whether Toyota can draw back buyers who started shopping other brands after Toyota was hit by huge recalls that involved sticky accelerators and floor mats that trapped gas pedals. Customers also ran into shortages this summer after Japan's earthquake disrupted production.
Toyota's lead has been slipping the last four years. In the first seven months of 2007, the company sold more than 282,000 Camrys, trouncing what was then its closest competitor, the Honda Accord, by more than 62,000. Camry sales were more than double the Nissan Altima's, and more than three times those of the Ford Fusion, Chevrolet Malibu and Hyundai Sonata.
Now the Camry's top five rivals are within striking distance. The Altima was only 21,000 behind through July, and the Fusion just 23,000 back.
Toyota Motor Corp President Akio Toyoda visited the Georgetown, Kentucky, plant where the Camry is made for the US, underscoring the car's importance. Toyoda said he personally tested the new car until he was satisfied that it outperforms its competition.
"This car has become a symbol of Toyota's success," he said. "This is an opportunity to show the world again what Toyota is all about."
- AAP