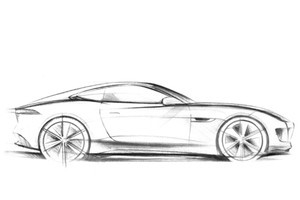 The Jaguar C-X16 concept is the first sign of the carmaker's XE sportscar, a modern revival of the 50-year-old E-Type. The British carmaker will unveil the C-X16 at next month's Frankfurt Motor Show and it's clear the designers have drawn on the E-Type for inspiration.
The large "pontoon" wings and swept-back lights are both E-Type trademarks. The C-X16's other styling cues are part of Jaguar's new design language, first seen on the C-X75 concept at the Paris show last year.
The sketch also points to the C-X16 appearing first as a coupe and not a roadster, the same order in which the E-Type appeared. But prototypes spied near the Jaguar factory have all been convertibles.
The newcomer has been under consideration since the XK180 and F-Type concepts of 1998 and 2000. Both were shelved because of financial constraints.
Jaguar hasn't released any details on what will power the C-X16 or the final production model.
However, a range of newly developed V6 engines is expected, delivering between 205kW in naturally aspirated form and as much as 280kW in the supercharged R. The model will allow Jaguar to move the XK upmarket when it introduces the next generation in 2014.
Although Jaguar has been careful not to reveal where the production C-X16 two-seater will be positioned within its range, its compact proportions support claims the newcomer will slot underneath the XK coupe as a direct rival for Porsche's entry-level coupe, the Cayman.