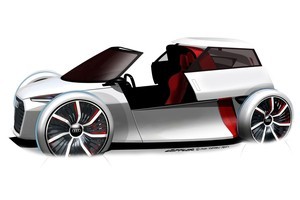 Audi has revealed an ultra-light concept car designed for congested urban areas combining what it says are elements of a racing car, a fun car and an urban car fitted into a radical new idea.
Orientated strictly on lightweight construction the wheels are free-standing with surrounding protective plates featuring blinking strips of LED lights. High forward-urging lines give it a dynamic new design language.
On board there is room for two people, with their position slightly staggered and at a sporty, low level. All controls and materials are subject to the dictates of ultra-lightweight construction in order to ensure they convey "a completely unique, sensory allure," according to Audi.
The driver can adjust the steering wheel and pedals to his own body measurements. Entry to the car is via the tailgate. The roof is designed to be manoeuvrable and slides to the rear to open.
The cockpit consists of carbon fibre-reinforced polymer, which integrates the undercarriage of both seats. The Audi urban concept rolls on wheels with a 21-inch diameter.
Power is provided by two e-tron electric motors with a lithium-ion battery supplying energy.
- AAP