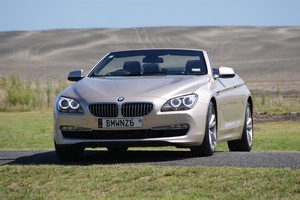 The latest BMW 6-Series was developed in tandem with the luxury 7-Series sedan and is based on the same platform.
If you want to really get into the family tree, it's also related to the Rolls-Royce Ghost. Considering our test car is the range-topping 650i, with a quarter-of-million-dollar price tag, this should be a good thing: a luxury open-top four-seater with limousine genes.
Mostly, it is. The 650i is fast, beautifully smooth and comprehensively equipped. But our evaluation car is also evidence that you can go too far.
The 7-Series boasts Integral Active Steering - essentially a rear-wheel-steer system that makes the big sedan easier to turn in tight spaces (because the rear wheels go in the opposite direction to the front) and more agile in fast corners (where they turn the same way). It's welcome technology that improves ease-of-use on such a large car.
Integral Active Steer is also available on the 6-Series (and sister 5-Series) as a $4850 option.
It was fitted to our test car and, having also driven a 650i without, I'd have to say it's one box I wouldn't tick.
While the 650i is not a small car, it's not large enough to require this type of assistance in city driving. Out on the open road, the 650i's strength is effortless performance and smooth, flowing chassis character.
Having such abrupt chassis response in a car like this is actually a bit distracting. Especially when you've got Electronic Damper Control and something called Adaptive Drive to try and use/understand (I don't, really).
So no, the 650i does not play at being a sports car all that well. It's not supposed to. But it is staggeringly quick, with an incredible 300kW/600Nm from its 4.4-litre twin turbo V8 and 0-100km/h in 5sec neat.
So it's not far off an M3 in a straight line, for example - except that you're rolling along with an eight-speed automatic gearbox and the whole experience feels totally unflustered.
It'll even do 10.7 litres per 100km ... although not on my watch.
It's a bit odd evaluating the 6-Series as a convertible first, but that's the way BMW has launched the car globally - mainly because the ragtop version was more popular in the previous model.
It's impossible to say if or how the car is compromised compared with the forthcoming coupe version, but on the basis of this experience nothing springs to mind. It's good looking, solid and beautifully made. As with the previous model, the interior is completely different to the donor 5-Series and really quite swish - especially when the dashboard is trimmed in $3600 worth of leather with "extended features" (not sure what those are).
The top is old-school fabric (most luxury convertibles are) and the rear seats are pretty tight - the coupe is likely to be a bit more roomy, but hardly spacious.
Convenience features include ... everything, really. You get a head-up display, internet connectivity through your cellphone, surround-view parking assistance and navigation on a huge 27.5cm screen.
You can't get away from the fact that a two-tonne luxury convertible appeals to a certain demographic - one for whom gold is a natural colour choice. These people will love the 650i's quality and presence, even if they won't necessarily use the car's considerable performance potential and high-tech chassis.
That's okay - none of it has been wasted because it's really filled me with a sense of anticipation for the lighter, even more rigid coupe version.
The bottom line:
Fast, smooth, not nearly as funny looking as the old model - the new 6-Series convertible gets the luxury fundamentals right. Just don't be tempted by too many of the high-tech options.