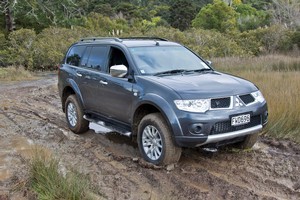 The trouble with many 4WD wagons is that they've grown too expensive and too fancy to actually take off the road.
Would you want to mud-plug in your $190,000 Range Rover when the risk of scratching and body damage is high? Which is where the Mitsubishi Challenger GLS comes in, not that it's particularly cheap at more than $58,000, but it leaves off many of the frills SUV buyers are thought to want and drives straight from the showroom floor and into the bush with composure and competence, although there's still no anti-scratch button on the dash.
It would be great for outdoorsy families that actually do drive off the beaten track or for tradespeople or professionals whose jobs take them into mud and ruts.
The Challenger has been around since the mid-1990s and was popular here new and as a used import. It went out of production in 2008 but reappeared a couple of years ago as a new model based on the Triton ute chassis, with dobs of Pajero.
Mitsi also offers a more fully equipped version, the Exceed, for $63,390 with such additions as a third row of seating, leather upholstery and an upgraded sound system. But these add-ons sit uneasily on the wagon whose DNA is derived from a ute's, rather than from a luxury SUV.
However, occupants are far from slumming it in the GLS configuration. It's comfortable, has an attractive cabin and comes with the stuff that's seen as essential in an SUV these days, including power-everything, adaptive five-speed automatic transmission, air conditioning, cupholders galore and good audio.
It borrows from Pajero the excellent Super Select transmission that allows the driver to choose either two-wheel-drive or four-wheel-drive for on-road driving. Having drive to all wheels is useful on bad or slippery roads or to help with towing; having just the rear wheels driven helps stretch the last bit of mileage from each litre of diesel.
For working off-road, the Challenger has low-range gearing and, when the going gets really tough, a locking rear differential. Its capable electronic traction control switches off when the diff-lock is in use.
Ultimately, a lack of ground clearance and only average approach and departure angles work against the Challenger in harder off-road situations, but spending some money with aftermarket specialists can easily solve both problems.
On the road, the Challenger behaves like a more-sophisticated Triton ute; no surprise there. Ride and handling are better, the result of Triton's rear leaf springs being swapped-out for more-compliant coils. It's also devoid of the outward-vision blind spots that are a curse of SUVs.
Refinement rates
It doesn't take long to notice that the Challenger's 2477cc four-cylinder common-rail turbodiesel is rough and noisy compared with some of its rivals. The 133kW of power and 356Nm of torque are satisfactory for performance - the Challenger's no slug - the motor just makes too much fuss. It's more noticeable in the refined Challenger than the Triton ute. It shouldn't be a deal breaker, but a little more refinement under
the bonnet would be nice.
Also consider
Land Rover Defender 110, from $69,990
Jeep Wrangler Unlimited $61,990
Nissan Pathfinder T $76,900
Toyota FJ Cruiser from $69,990