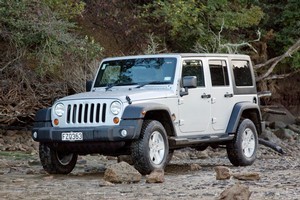 A 2011 makeover of the Jeep Wrangler's interior provides another clue that the old warrior has had new mission orders.
A direct descendent of the Allies' iconic mud-and-sand chariot, the Wrangler's transformation to snug civilian suburban life has been long and problematic.
On one hand, those with a need for an off-road vehicle have wanted Jeep to retain its core values of ruggedness, simplicity, and "groom it with a hose" interior. On the other hand, Jeep's marketing and accounting bosses have been keen to soften their icon and broaden its appeal with the luxuries that those whose biggest adventure is finding a new mall have come to expect in their SUVs.
This struggle has been going on for years, but the 2011 model suggests that the suburbs have won out over the shale of a rutted track and that its new orders are to further infiltrate the cul-de-sacs, avenues and crescents. To help with its mission, Wrangler and its stretched four-door relative, the Wrangler Unlimited, have been issued a new interior that's so car-like it might as well be in ...
a car.
Meanwhile, acoustics engineers have managed to further quieten the interior to almost car-like levels, despite the disadvantage of the noisy coarse-pattern all-terrain tyres that are part of the package.
Those who buy a JK Wrangler for tracks and trails might prefer the previous interior, which was more utilitarian and more like what you would expect inside a "real" Jeep.
But everyone else will probably like the new look that seems to have been done by an interior designer of the soft-look persuasion. The dashboard gently flows and the knobs and switches appear to be much more tactile, but really aren't. However, in the world of the suburban SUV appearance is everything.
Instrumentation is improved, especially the trip-computer readouts and functions. At last, the armrest on the centre console is exactly the right height. However, the best improvement may be at the rear where the tailgate now has a stay, so it no longer slams shut on your fingers on any sort of an incline or in the wind.
Underneath its new suit of clothes, the Wrangler is still trail ready, although the Renegade version Driven drove isn't as good as the costlier Rubicon with special gearing, locking differentials and a front-swaybar disconnect that allows a crazy amount of wheel travel.
Real off-roaders will usually prefer the lighter, smaller and more nimble two-door, but today's marketplace flocks to the roomier four-door Unlimited, with its second row of seats and generous cargo area. Despite what appear to be small doors, it's easy to climb aboard and buckle into the back seat; and it's reasonably roomy once there.
Mechanically, the 2011 model is unchanged, which means that the 3.8-litre V6 continues to drink too much fuel and, although the ride is surprisingly good, handling falls a bit short of some other SUVs. Jeep sticks with a trail-friendly beam-axle suspension while many others have gone to an independent suspension with better on-road handling and ride characteristics.
TOPPING IT OFF
Wrangler's party trick is its ability to go topless. Or if that doesn't appeal, it comes with both a hardtop and a soft-top, although you can only use one at a time. The hardtop has two big roof panels that can be easily lifted off for a blast of semi open-air motoring, whenever the mood takes you. But probably not in mid-winter.
WHAT ELSE?
A Wrangler Unlimited's almost unique these days, but how about:
* Land Rover Defender 110 from $69,990
* Toyota FJ Cruiser from $69,990
* Toyota Land Cruiser 70 LX from $81,490
* By comparison, the Unlimited Renegade auto is $56,990 or $61,990 for the diesel