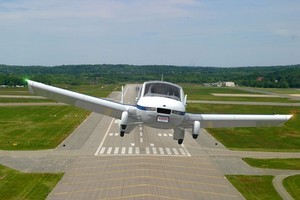 When US company Terrafugia unveils the prototype of its new car this July the $200,000 (NZ$242,660) price tag will probably barely be mentioned. Not because this is a car to rival a Ferrari, but because it is one to soar above it. The Transition will be the first flying car.
Or, as the independent team of ex MIT-trained aeronautical engineers that set up the company just five years ago prefer to call it, the first "roadable aircraft". By the end of the year, the 100 people who've pre-ordered the Transition are due to receive their model. It's street legal, offers easy storage in one's garage and does 7.8L/100km whether on the ground or in the air.
See the Terrafugia Transition in action here.
"The challenge to more general aviation has been not only the high-cost - the purchase price of an aircraft, the hanger rental and running costs - and the skills required to pilot a craft, but also practical issues - moving the aircraft around on the ground and dealing with bad weather," says Richard Gersh, vice president for business development at Terrafugia, which is also designing a flying Humvee for the US military.
"But with prototypes like this, and the others in development, each tackling the problem with different solutions, access to flight is coming down all the time. People have been thinking about personal air vehicles for decades and that remains a long-term vision. Now the barriers to entry as a pilot are lower than they have ever been."
Indeed, if a sci-fi vision of the future has us, Jetsons-like, taking to the skies as easily as we take to the road, a new generation of prototype craft is moving us closer to a world in which the idea of mobility is given new expression - through 3D space, as the crow flies, unhampered by designated and congested roads. "How much better would it be to have a vehicle that goes over congestion, that lets you go out of your door, take off, land in a parking lot and do your shopping?" asks Robert Bulaga, president of Trek Aerospace, which is pushing super-efficicient fan technology to develop a "personal flying machine".
A fourth generation prototype of its craft has been built and tested and a control system now developed with Stanford University which would give it sufficient stability to even be flown hands-free.
Personal is the word too. Trek's Springtail vehicle is almost the kind you would strap on rather than step into. Certainly the Springtail suggests the Bell Rocketbelt jetpack that seemed so exotically ahead of its time following its appearance in Thunderball, and a Springtail predecessor, in fact, made an appearance in the Agent Cody Banks movie.
New Zealand company Martin Jetpack has also been testing a similar fan-based vehicle since 2008, theoretically able to transport its pilot (sans passengers, golf clubs or groceries) for 30 minutes at 100km/h and at 8,000ft, which is now in its final phase of development. Last year Time named it the "most anticipated invention" following a $12m joint-venture deal that plans to see an overseas factory built and making 500 Springtails a year by 2013.
"There is demand for such a personal product, if not a huge one," Bulaga reckons, discounting the inevitable interest from the cloak-and-dagger likes of DARPA, America's Department of Defence Research Agency. "Initially these will be machines more the flying equivalents of sports cars or motorbikes, with their users putting up with certain discomforts for the convenience and fun they'd bring. But they could eventually be a game-changer for the world in terms of mobility and the growing value of time. The movies have long promoted personal flight's benefits, so many people have some dream of it. It's surprising that it hasn't happened yet. A truly personal craft could be available within a few years."
Might personal flight really become a reality in the near future? Nasa has predicted that some 25 per cent of the US population will have access to some kind of personal flying vehicle (through air taxis or an on-demand service) within as little as a decade, and that increased road congestion - a product of ever-increasing quantities of haulage, such that the average driving speed in the US now is just 50km/h - will only ensure it happens.
Certainly a mix of new legislation and technology has, over the last decade, made it much more likely. Interest in developing suitable craft has spiked in America at least following de-regulation that has seen the introduction of a new "light sport" aircraft category, making flight accessible to those with around half the training required for a typical private pilot's qualification. It is a standard that is already spreading, with Europe also considering an equivalent.
And massive reductions in the cost of advanced electronics, together with advances in lighter, more efficient power plants and carbon-fibre construction has, through computer modelling, made the design and building of suitable craft feasible.
Perhaps all that stands in the way of take off are matters of money, inevitably, and of perception. It is funding that is holding back two of the most promising vehicle prototypes, both spectacular in different ways.
There is Moller Aircraft's ethanol-powered, four-seater VTOL (vertical take-off/landing) M400 Skycar, which, with its retro-futuristic look is as close to Flash Gordon as small aircraft get - capable of cruising well over 320km/h, planned to cost no more than a luxury car and due its first system qualification flight this October, which will see it become a genuine proposition.
"The technology is already there to make flight available to everyone, and the appeal of having that hummingbird sense of freedom to use all this empty space above us is widespread," reckons the company founder Robert Moller, who, while developing the Skycar has picked up some 50 patents, including those for a ground-breaking composite fan technology and a computer stabilising system. "But although it's something people want, it isn't something the investment community understands yet. The climate is such that it wants buckets of money back in just a few months."
And he should know. Moller has spent US$100m in research and development since he first set up his company during the 1960s. That may sound like a lot, but then Bell-Boeing spent $1.2bn on its V22 Osprey plane/helicopter hybrid - or, more precisely, just on creating its gearbox.
Then there is Icon Aircraft's Icon, a two-seater, folding-wing flying boat that one would take to the lake on a trailer behind the car and for which some 460 orders have been placed, despite the delivery date being four years away.
"But it's a remarkable statistic that a third of those orders are from people who don't have any kind of flying qualification at all," says chief operating officer Steen Strand, who, as a measure of the company's seriousness, also counts among his colleagues the former CEO of Boeing.
"These people have just said to themselves, 'I've seen this aircraft and now I'm going to fly'. And that's right. The aviation industry has its own slow, institutionalised momentum and it's taking outsiders to drive change. But there's no reason why flying shouldn't be the ultimate mass-market recreational activity as it was conceived as being in its early days."
Icon's biggest step towards this? Stripping out all the complexity of the cockpit to leave an environment that, by its very style and intuitiveness, looks approachable for your average car driver. As Strand puts it, the importance of creating an aircraft that looks "badass" is essential. "It's the same when you go to buy a car or a boat - the look inspires you to jump in, encourages you to believe you can take a ride," he says.
The confidence that such a design encourages may go some way to alleviating the obvious concern of safety - crashing at several thousand feet has consequences not envisaged at ground level, and many new generation craft might operate in what is bluntly referred to as the "dead zone", too high to surive a fall, too low for a standard parachute to be effective (though so-called ballistic parachutes may be an alternative).
Although sufficiently high numbers of such vehicles to make crashes probable might not be expected for several decades, in the longer run there will be a need to develop anti-collision systems.
Bulaga suggests that public concerns are likely to be alleviated by seeing such craft used by the military and emergency services before they become more widely available. Certainly flying is expensive too, "but then so is skiing, or scuba diving or motorsports," notes Richard Gersh. "And plenty of people take part in those."
"But perhaps the biggest hurdle is this idea that flying is only for an elite, that if you want to fly you have to 'know stuff' and that stuff can't be dumbed down," says Strand.
"We've seen the same attitude in other industries, in computing and in photography, all these pros saying 'well that's not a real camera' when SLRs came onto the market, for example. Both industries have seen developments that have made what only experts have done more accessible. And, similarly, you can 'dumb down' flying intelligently. The fact is that the basics of flying are pretty simple, if the process is made simple for you. More and more people are going to discover that."
- INDEPENDENT