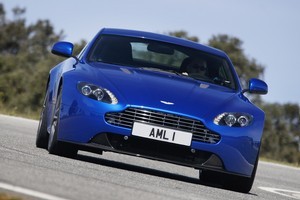 On the face of it, this seems like the filling not so much of a niche in the market but a microscopic pore.
The Aston Martin V8 Vantage is a fast, very handsome, two-seater GT car, more exclusive than a Jaguar XK, more traditional in its layout than a Porsche 911. In its life to date it has seen its engine grow from 4.3 to 4.7 litres, its coupé body style joined by an open Roadster version, its pace and appeal further boosted by the option of a V12 engine, its reputation enhanced by many racing successes.
And more: there have been Sport suspension options, N24 and GT4 ready-to-drive racing cars for your own motor sport ambitions, and N400 and N420 models with a race-car theme but road-car practicality. That, surely, is every eventuality covered.
Not so, apparently. Having just landed on New Zealand shores is the V8 Vantage S, a different sort of ultimate Vantage road car compared with the former holder of that distinction, the V12 Vantage.
It has the slightly widened stance of the V12 and the GT4, the engine produces an extra 7.5kW (making 325kW/436hp) with extra pulling power to match, bigger brakes hide within new wheels wearing slightly wider tyres, and the suspension has been slightly recalibrated to make the Vantage sit more firmly on the road and point more keenly into corners.
Incremental changes, all of them. More obvious is a more quickly-responding steering system, originally designed for the Rapide saloon to put back the agility that the saloon's longer wheelbase took away. In the short Vantage the effect is dramatic.
Finally, and perhaps most importantly, there's a new gearbox. It's a seven-speed sequential unit made by Graziano in Italy, its gears selected by paddle-shifters on the steering column without the help of a clutch pedal. There is no manual-gearbox alternative for the Vantage S.
This puts me instantly on my guard, because it's a rare sequential-shift, two-pedal transmission that doesn't prove unfulfilling over time or, worse, annoying. Such systems based on existing manual gearboxes, and thus retaining a conventional single clutch, which is operated automatically, can be prone to surges and jerks especially when used in automatic mode. The good ones, however, can be good fun because they still demand some driver judgement when easing the accelerator for a smooth gearchange in manual mode.
Lots of little enhancements, then. Will they add up to something big once I press the glass ignition key? Any residual cynicism I may have harboured vanishes in the first 500 yards of my first lap of the sinuously scenic Ascari raceway in southern Spain.
Forget the glamorous connotations of such a place, any notions of PR-fuelled rose-tinting of my critical faculties, because they have no influence. They don't need to; in those 500 yards the Vantage S speaks very eloquently for itself.
From promising but detail-flawed beginnings, the V8 Vantage breed has burst through the clouds and clarity is achieved. A while ago I drove the N24 racing car and wished its precise, ultra-communicative, rapid but forgiving demeanour could translate to the Vantage road cars, and now it has.
Here is the V8 Vantage as it should be, lighter on its feet than a V12 Vantage, blessed with a gearbox which is great fun to use in manual mode to the extent that you're never tempted to give up and default to automatic. Just as well; auto mode still pauses and surges. "Sport" mode is best, its quicker shifts easier to smooth with a deft lift of the accelerator.
On the track, though, you just keep the accelerator planted and feel the shove in the back with each burst of acceleration. The Vantage S's grip and balance in the bends inspires great confidence. The suspension is firm, true, but bearably so, and the whole car is beautifully detailed and finished. Lots of little improvements. One great big result.
The rivals
Jaguar XKR: 380kW (510hp), 292g/km
Same GT mould as Aston but less crisp in its demeanour. Potent supercharged V8 is matched to alert auto gearbox. Good value.
Mercedes-Benz SLS: 425kW (570hp), 308g/km
Hints at 1950s SL with its gullwing doors. Very quick with dramatic V8, inconveniently wide, slow-witted auto gearbox.
Porsche 911 GT3: 324kW (435hp), 298g/km
This is the 911 as race-flavoured pleasure machine, very rapid and totally engaging. In some ways it's my favourite 911.
- THE INDEPENDENT