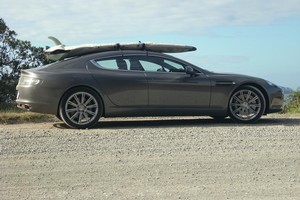 Most of you good readers will have seen the pictures on this page before you started reading the story.
I think I can write with some confidence that none of you will have seen an Aston Martin Rapide with a long board on its roof, on a local dirt road, before.
This missive is not a road test per se, as there are many more august motoring journalists out there who will be able to convey the technical aspects of the car far better than I.
That is; fuel consumption, the gizmos inside and outside, performance, balance, braking distances, top speed, naught to whatever and all that other stuff you can find on the internet, magazine and newspaper spec sheets.
I must reiterate this is not a road test. More a seat-of-the-pants thing to see if this car which, to be perfectly honest, is out of the reach of us mere mortals, is just a desirable object or something you can actually live with.
Not too sure if it's a technical thing or not, but what I know and am not likely to forget in a long time, is the engine made a bloody awesome noise when it was fired up.
According to Greg Brinck at Independent Prestige, it has something to do with a valve in the exhaust system that lets the engine breathe more if it revs over 3000 or so and on starting.
Without exception, every time the car fired up people stopped and looked and the great thing was, nobody spun around with a glare of disdain. On occasion, we're not all about sustainability, carbon footprints, electric hybrid this and that. There are times when pure aesthetics, beautiful lines coupled with functionality and a great noise will turn even the most staunch of green, left-leaning liberals.
As I usually cover motorsport, and motorsport alone, I very rarely get to drive road-going cars. How this experience came about was, oddly enough, at a motorsport meeting at Hampton Downs.
I suggested Independent Prestige should hand over one of their showpieces to go surfing in, to prove that despite being on the exclusive side, they could be used normally.
The idea struck a chord and before long I was leaving the Great North Rd dealership behind the wheel of a car I only previously had as a Dinky toy. Well, not this model - it was James Bond's DB5 - but an Aston Martin nonetheless.
The first thing I noted was that I could see out of it and didn't feel like I was cocooned inside some futuristic spaceship. On the odd occasion I have driven luxury supercars I've noticed they're damn hard to see out of. Not so with the Rapide, it had good vision front, side and, believe it or not, out the back as well.
For a visually big car it drives remarkably like a mid-size vehicle, which instantly put me at ease as I plotted my way through Friday afternoon traffic heading out of Auckland towards the wilds of Rodney.
On the way home I had to pick up my daughter and two of her friends from netball practice. Not only was Lottie most impressed, but her two friends have starting saving up for a vehicle they described as "a really cool car". Encouraging words from a bunch of teenage girls who have no interest in motorcars, and would rather be discussing the latest pop song, band or actor.
The next morning we loaded up to hit the beach and, as you can see in the pictures, the boot accommodates enough stuff for four people and a 2.8m longboard, which fits beautifully on the roof with a pair of soft racks.
The roofline of the car looks like it was made for a surfboard. Loaded up with the beach gear and four people, we set off to Tawharanui. There's definitely something to be said for a monster V12 engine under the hood because the car never noticed it was fully laden and handled the load beautifully.
A small amount of apprehension set in as we approached the dirt road that leads into the regional park. Not so much for the car itself, but how it would handle on big tyres on gravel.
I need not have worried. I'm not going to try to explain how the adaptive suspension works (that's the bastion of motoring road testers) but I can tell you it works bloody well on dirt roads.
On arriving in the car park the Rapide didn't turn too many heads as there were a few other rather expensive pieces of 4WD machinery assembled, but the odd person came over to check out how the soft racks fitted. Also, being on the short side, I was able to get the board on and off the roof without the use of a stepladder, unlike a few others with big European machines.
Over the weekend the Rapide's elegant, sexy, slightly aggressive look drew a lot of attention, as did its sound. Everyone who rode in it was impressed. Their ages ranged from 14 all the way up to 70-year-olds, who spent most of their time in the back seats and thought them very comfortable.
I admit I've never been one for the expensive supercar toy that is about as practical as an udder on a bull, but the Rapide has the pedigree, the looks, the engine and the sound. And you can pack it up and hit the beach with it - now that's my sort of supercar.