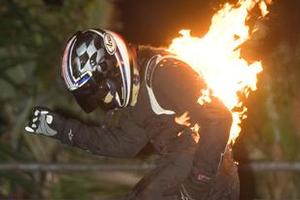 One of the best Kiwi drivers to grace the Australian V8 Supercar championships and four-time Bathurst winner Greg Murphy is back to co-host Top Gear Live with Jeremy Clarkson and James May.
While being very happy about getting the gig again, Murphy is a bit miffed he'll have to miss the opening round of V8 Supercars in Abu Dhabi as the dates clash.
There has been much speculation in the press that Murphy took the BBC's money rather than race for his new team.
Superwheels decided to avoid the rumour mill and go straight to the man himself.
"Last year's Top Gear Live was a great event and the organisers and Clarkson were happy with me and wanted me to do it again," said Murphy.
"I think it was in April when I signed up again and at that time there was no V8 Supercar calendar and I didn't even know if I'd even be racing at Tasman. Also the date in mid-Feb was good as no one ever envisaged there'd be any racing that early.
"Over a month later the Supercars put out the calendar that included a new race in Abu Dhabi on the same date as TGL. That left a big hole in the stomach at the time. When talks started at Paul Morris Motorsport and Castrol, I immediately told them there was a problem.
"Fortunately for me they still wanted the deal to go through so we worked around it. Castrol were great as they understood about contracts and have always honoured theirs."
So there you have it. No conspiracy theory, just simple talking and work-arounds with everyone upfront. However, Murphy is still not happy he's going to miss the first round of a championship for the first time in his career.
Not all is lost though as Murphy had a hand in the development of the new outside track for Top Gear Live where all manner of racing, stunts, demonstration etc will take place before and after the indoor show.
"Having the track out there allows for so many more options to do stuff. I did some sketches and laid it where I though it should go but it took a little time to come into play.
"They had to resurface and extend the outside area and one of the other guys did a really good job of [interpreting] my sketches into something sensible that's come up really, really well.
"I was there last week to see progress and I was very impressed," he said. "The layout is going to be quite a challenge for the drivers.
"It'll be fun watching experienced racecar drivers tackle the course and the 'Stars in Cars' will be presented with a real test," said Murphy.
Murphy is the main Kiwi component, along with Neil Cunningham, in the Top Gear Live New Zealand show and this is also his first stint as Festival Director. He's also been asked to co-host the Australian tour dates.