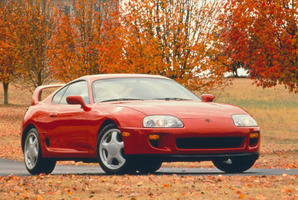 It keeps getting better for fans of Toyota sports cars.
Following on from the brilliant 86, news has come to light that incoming chairman Takeshi Uchiyamada wants the company to produce a vehicle "comparable" to the Supra (pictured).
The Japanese company that used to produce a range of sporty models, including the Supra, the MR2 and the FWD Celica, has had a veritable drought of excitement in its range until the recent introduction of the 86.
Uchiyamada is reportedly keen to see that expand beyond the expected 86 convertible. While there is no concrete proof that Toyota is going to build a new Supra, the fact that the incoming chairman is keen adds weight to the rumour that Toyota and BMW will "set up a feasibility study to define a joint platform concept for a mid-size sports vehicle".
Hmm ... a bigger 86 with a BMW-derived straight-six turbo jammed in it? Yes, please!
Paint your ... Volvo?
Think BMW has cornered the market on getting famous artists to slap a priceless coat of paint on a car? Well, yes actually.
That is why Volvo doesn't bother with that, instead it lets established and up-and-coming artists loose on temporary exhibits in a large art display in the central train station in Zurich, Switzerland.
The installations start with a huge blank canvas and a single Volvo this year an XC60. Each artist is free to do what they choose, as long as they use the car in some way. Some choose to use the car as a focal point, others choose to make it almost invisible.
The resulting artwork is in existence only for a short time before it is painted over by the next artist.
We are the world

*Ismael Martinez got more than he bargained for when he carjacked a minivan, armed with a knife. The driver, Dorothy Baker-Flugence, not only fought with him while calling 911,
she also drove the car into a power pole when she noticed he wasn't wearing a seatbelt, then punched him in the face. After Martinez fled, she ran him over. ''I told him he messed with the wrong witch,'' she said.
*UK parking wardens could be equipped with ``video badges'' following the jailing of a warden who said a driver had run him over after an argument over a parking ticket. CCTV
footage from a pub proved nothing of the sort happened and the warden was sentenced to a short prison term.
Great cars, shame about the movie
While we know Michael Bay isn't finished with his comprehensive trampling of our fond childhood memories and has a fourth instalment of his Transformers cinematic franchise in the works, the cars that will feature have been something of a mystery. Until now.
Bay's company has been gradually releasing a list of the cars which will feature (briefly, among the shaky camera work, disorientating cuts and big explosions) in the movie, and some are interesting.
For a start, Autobot leader Optimus Prime gets a new look with a Western Star body and
outrageous paint job (above), while Bumblebee drops his modern Camaro look for a trip back in time to become a first-gen Camaro (even though the original Bumblebee was
a VW Beetle ... ).
Other cars revealed include a Bugatti Veyron, a C7 Corvette, a Lamborghini Aventador and a serious looking military vehicle that has been revealed to be a character called Hound.
TVR (sort of) returns
After being bought and mishandled to the point of extinction by Russian billionaire Nikolai Smolenski, British brand TVR has fallen back into British hands after being bought by Surrey-based entrepreneur Les Edgar.
But don't come over all wobbly at the knees and filled with teary-eyed gratitude yet, fans of British cars, because an interview with Les Edgar on the PistonHeads website reveals a man who appears to be not entirely certain what he has bought or what he is going to do
with it ...
The former video game developer is evasive over his plans for the company, what the brand means to him and even which of the company's cars he has owned.
The interview is peppered with answers like ''That's confidential'' and ''I can't tell you'', but is backed up with ''We do have a very clear idea of what we are doing'', and he
comes across ill-prepared at best, utterly clueless at worst.
This is one of the rare occasions that The Good Oil hopes it is wrong, but we are not holding our breath for a glorious TVR resurrection just yet.
Never trust an Audi driver
While BMW and Audi constantly swap the lead in the luxury class in New Zealand, news comes that Audi has taken the lead from BMW in another, probably not quite so important race.
A poll shows that more people willing to cheat on their partners drive an Audi than any other brand. The same poll last year had BMW in the lead, but the Munich brand has to settle for being the No 2 cheater's choice this year.
Mercedes-Benz, Volvo and Volkswagen round out the top five, with Peugeot, Renault, Rover, Skoda and Hyundai being the top five cars driven least by cheaters.

Number Crunching
200 CARS The number General Motors supplied for destruction in the final battle scene in the first Transformers movie.
3 MILLION The dollars saved with GM product placement for the first Transformers.
38 PER CENT The average rating of all three Transformers on the Rotten Tomatoes
review website.
4 BILLION The box office revenue in US dollars of the three Transformers films.