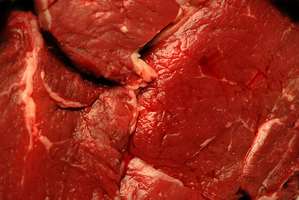 One person has suffered an asthma attack after consuming fresh meat that illegally contained sulphites, the Ministry for Primary Industries has revealed.
The incident, which occurred earlier this year, was disclosed to APNZ today following inquiries into testing in Auckland for sulphur dioxide and other sulphites in fresh meat.
Addition of the chemicals, used as a preservative in some foods, is banned in fresh meat because of associated health risks.
Those allergic to sulphites could have difficulty breathing and start vomiting if the chemicals were consumed, and a severe allergic reaction could also result in death. Asthma sufferers could also be sensitive to sulphites.
The ministry's manager, operational co-ordination, Gary Orr said an investigation into the use of sulphites in fresh meat was launched in Auckland following an anonymous tip at the end of 2011.
Fresh meat samples taken from 10 retailers last June were tested by MPI and nine returned positive results, prompting a wider investigation, Mr Orr said.
Earlier this month, fresh meat from 30 Auckland meat retailers were collected for testing.
Mr Orr said the results of the second round of tests could be used in court if needed.
Mr Orr stressed MPI was not worried about widespread use of sulphites in fresh meat.
"This is just a routine thing for us to ensure that the regulations are being complied with, and where they're not, those who are not are held to task."
There had been one reported illness linked to sulphites in fresh meat - a "very low risk factor", he said.
It was an asthma attack earlier this year, he said.
"One illness in 12 months given the volume of raw meat being sold in the Auckland region on a daily basis is statistically negligible."
Mr Orr was unable to disclose which retailers were under scrutiny but confirmed none of the major supermarket chains were involved.
"They'd have excellent systems and processes in place and that's why we're not concerned about them."
Test results are expected by the end of next week.
Incorrect use of sulphite as additives can result in a fine of up to $5000 for an individual, or $20,000 for a body corporate under the Food Act, .