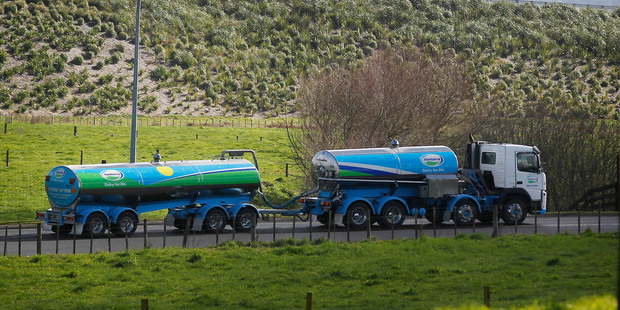 Former Soviet republics Belarus and Kazakhstan have joined Russia in banning Fonterra dairy products in the wake of the dairy giant's botulism scare, Trade Minister Tim Groser has confirmed.
A spokeswoman for Mr Groser said the two central Asian nations had placed "temporary restrictions" on Fonterra products, the same move taken by Russia last week.
The two countries were small markets for Fonterra, the spokeswoman said.
The bans come as the Government is moving to expedite an investigation into the food safety scare which Fonterra says could cost New Zealand tens of millions of dollars in lost export earnings.
Fonterra today confirmed that none of the potentially affected whey protein concentrate was supplied by Fonterra to Russia, Belarus or Kazakhstan.
In addition, no Fonterra products sent to these countries used the affected whey protein concentrate as an ingredient.
Fonterra was working closely with the authorities of the Customs Union of Russia, Belarus and Kazakhstan to reassure them of the safety of its products.
Miles Hurrell, general manager for Fonterra in the Middle East, Africa and the CIS, said Fonterra primarily supplied butter and cheese to the Russian market and those are not made using whey protein concentrate.
Last week, both the New Zealand Government and Fonterra confirmed that New Zealand dairy exports such as whole and skim milk powders, as well as butter and cheese are safe.
"We are continuing to work closely with New Zealand's Ministry of Primary Industries to provide reassurances to customers, consumers and trade partners of the safety of New Zealand dairy products, Mr Hurrell said.
Prime Minister John Key yesterday said his Government would, under urgency if necessary, pass the Inquiries Bill which would give ministerial-level inquiries new powers to compel witnesses to give evidence under oath. The bill was introduced by Labour in 2008 but has been left on Parliament's Order Paper for years.
Fonterra will conduct two internal inquiries into the incident, and the Ministry of Primary Industries yesterday gave details of its own probe into the way the problem was handled.
Mr Key had yesterday been expected to announce plans for either a ministerial inquiry or a commission of inquiry into the incident.
But he said a ministerial inquiry lacked the power to force witnesses to give evidence, and a commission of inquiry would take too long.
While it was favouring an inquiry under the new legislation, the Cabinet would make a final decision next Monday as to which form of inquiry it will run.
"Once these inquiries are complete I want to be able to travel to China and look down the barrel of their television cameras with the answers as to why this happened, give consumers confidence that it's been fixed and all issues have been identified."
United Future Leader Peter Dunne, who refused to give some information to the Henry inquiry into the leak of a GCSB report, said he recognised the need for a quick, thorough inquiry, but "what we've got to be careful of is that in resolving the Fonterra situation we don't unwittingly create problems for other inquiries that come along".
Labour deputy leader Grant Robertson said his party had supported the Inquiries Bill, but would have to consider any new amendments before supporting it further.
The four investigations:
Government inquiry: To establish whether the scare was an isolated incident or indicative of a broader systemic issue.
Fonterra board-level inquiry: Led by independent director and former CBA and Air NZ chief executive Sir Ralph Norris to review the circumstances and principal decision points relating to the affected product, and look at Fonterra's business procedures, systems and practices.
Fonterra management-level inquiry: To find out why the incident happened, prevent it happening again, and ensure Fonterra maintains its "global leadership position within the dairy industry"
Ministry of Primary Industries "compliance investigation": To determine whether regulatory requirements under the Food Act and the Animal Products Act were met by all parties, or whether any parties have committed breaches or offences.