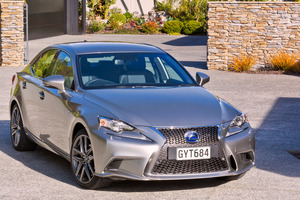 There's an interesting trend going on in the motoring world at the moment to make cars either produce better noise than they necessarily would otherwise, or to outright fake it.
Audi's attempt to make its biturbo diesel SQ5 crossover sound less diesel and more racetrack by using a highly technical array of acoustically tuned pipes, resonators and other engine-note-augmenting devices was actually pretty successful. It doesn't really do anything to performance - that 3-litre engine is a little cracker in its own right - but it certainly doesn't have the trademark rattle and hum that you'd expect from an oilburner.
The Ford Focus ST's two-litre EcoBoost has some cunning pipework to give the driver a stroppier soundtrack than the turbocharged engine could - and maybe also to give the sound as much personality as the outgoing XR5's mill did.
This week saw the Lexus IS launched in the central North Island, and Toyota may have just stepped over the line with the petrol hybrid IS300h's wee noise generator - it's essentially a speaker outputting a rortier tone that can be dialled in and out with what is essentially a volume control.
I'm not quite sure how to take this - the concept is fine, give a car a better note because that seriously impacts the driving experience. But is augmenting an existing engine noise cool but utterly fabricating one not, or is the fact that we live in a fairly synthetic society enough of an excuse to just go ahead and fake it?
We've given up buying a lot of things because our fanciful devices can provide a similar and scaled down experience to the real deal. Recording studio? Na, there's an app for that. Digital camera? Not to worry, the phone does that.
As technically deft as these things are, it's hard to substitute them for the real deal. Sure, having a hybrid you can load different car sounds into could be amusing to faff around with, but what's preferable, a Prius that sounds like a V12 Ferrari, or a V12 Ferrari?
It's admittedly a strange discussion to have - but you can bet the tech boundaries will keep getting shoved outwards, no matter how offensive they may be to a motoring purist.
Leave your comments about this article below - we're very interested in whether Driven's readers are happy to live with faking it ...