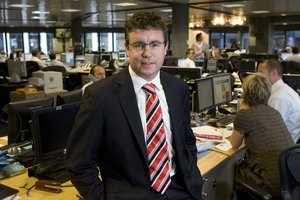 Consumer confidence has rebounded, says the latest ANZ-Roy Morgan survey, suggesting the economy is gaining momentum.
The consumer confidence index rose from 110.2 in March to 114 this month. It has been higher than this only once, last January, since the start of 2011.
ANZ chief economist Cameron Bagrie was reluctant to make sweeping statements on the strength of one month's improvement.
"We're still encouraged," he said. "We like what we are seeing."
Cautious consumer sentiment had been the missing link between improved business confidence and signs of life in the housing market flowing through into the broader economy.
The past few months had seen a notable lift in business sentiment, Bagrie said, and the housing market had improved.
He is wary of false dawns, however.
"We have seen this before, in 2010. The broader economy failed to kick on," he said.
"This time household balance sheets are in better shape, but they are still a constraint to a degree."
The housing market is in something of a sweet spot, with prices rising, notably in Auckland, while mortgage rates are at 37-year lows.
Respondents' expectations of house price inflation rose to 3.3 per cent, the highest level since the survey started asking about them 18 months ago.
"It is a bit of a housing market story but there is also the wider stabilisation in the global scene," Bagrie said.
A net 4 per cent of households feel worse off than a year ago, but that is an improvement from a net 10 per cent in March.
A net 30 per cent expect to be better off in a year's time, up from a net 23 per cent last month.
And a net 28 per cent think it is a good time to buy a major household item, up from a net 20 per cent in March.
Their views of the economic outlook, whether one year ahead or over the next five years, are little changed from last month's survey.
Bagrie said it was encouraging that respondents' views of current conditions had improved noticeably, since they were most relevant to actual consumption.
He cautioned, however, that the most conservative age groups were the ones with the most spending power.
"Confidence was stronger across all age cohorts except those aged between 35 and 49 years. The youngest age cohort, those aged 14 to 17, recorded the highest level of confidence. However the largest rise in confidence was measured in the age group of 50 years or older."
A regional breakdown found consumer confidence weakened in Canterbury but strengthened across the rest of the country.
"The South Island excluding Canterbury was the most confident region, lifting 10 points to 123.4, its highest reading since May 2010. Auckland recorded the second highest level of confidence (120)."
Bagrie said he was surprised to see confidence in Wellington rising 7 points to a 21-month high of 118.2, in light of the public sector belt-tightening under way.