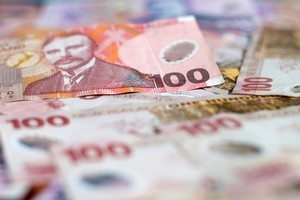 The New Zealand dollar was hit by a double whammy yesterday and fell sharply as the greenback surged and major aftershocks rattled Christchurch.
The dollar slumped from US82.15c to US81.41c in less than half an hour after a 5.5 magnitude aftershock struck the city at 1pm.
The kiwi then made slight gains and reached US81.71c before a second aftershock measuring 6 on the Richter scale sent it tumbling to a low of US81.17c. By 5pm the kiwi was at US81.34c.
The head of institutional foreign exchange sales at ASB Bank, Tim Kelleher, said it was likely the dollar would keep falling.
"The Reserve Bank was talking about inflation and a GDP improvement on the back of building in Christchurch, but it's just not going to happen. No one's going to go down and build until the place has stopped rattling and it quite clearly hasn't.
"This has the potential to dampen the whole economy of New Zealand again. You've got to say that sentiments are certainly pessimistic today," Kelleher said.
Last month's Budget predicted GDP growth to reach 4 per cent in the next year as work starts on the Christchurch rebuild, followed by 3 per cent and 2.7 per cent rises in the following years.
Some estimates have put the cost of the rebuild at $15 to $16 billion.
Westpac senior market strategist Imre Speizer agreed the kiwi had reached its short-term peak and would continue to slide down.
"We think that US83.01c was the peak for this round and it will now pull back and correct to US80c, but it could go deeper [than that]," Speizer said.
However, he expected the dollar to strengthen and reach new post-float highs towards the end of the year.
The seismic activity was the second hit for the dollar and followed a slump of more than a cent from Friday's high of US83.01c as currency traders moved to buy up the greenback.
"Friday evening we saw a bit of a US dollar bounce. There were some concerns in Greece about debt restructuring and this led to the euro falling and helped provide a bit of support for the US dollar," said Bank of New Zealand currency strategist Mike Jones.
The euro touched a two-week low yesterday after Luxembourg's Jean-Claude Juncker, who leads the group of euro-area finance ministers, said a bailout for Greece must include voluntary investor participation and meet the approval of central bankers.
"There was also a bit of risk aversion in markets [last week] leading to some US dollar buying and also the likes of the Japanese yen and Swiss franc, the save-haven currency assets, performing better on Friday night as well and that helped push the New Zealand dollar lower," Jones said.
The kiwi had been on the rise over the past three months, rallying almost 12 cents since mid-March. It reached its highest point since first being floated in 1985 on May 30, trading at US82.16c.
It continued to make gains over the next fortnight, breaking new post-float highs and crossed US83c early Friday morning.
Markets would start to ease back on expectations of a rate hike, Kelleher said.
The Reserve Bank cut rates after the February 22 6.3 magnitude quake to a record-equalling low of 2.5 per cent, but signs of recovery and an upbeat assessment from the bank at its review last week had led markets to price in interest rate rises from December.
- additional reporting: Bloomberg, NZPA