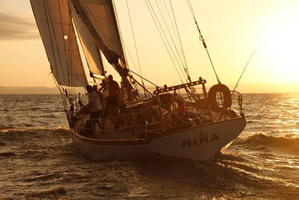 An Air Force Orion will today perform another aerial search for missing vintage American schooner Nina.
Part of today's operation, expected to begin about 9am, will cover an area previously been searched by radar.
It is expected to take about five hours, and will extend as far west as the Middleton and Elizabeth reefs in the Tasman Sea.
Previous search efforts for the vessel, which was last heard from a month ago, have been unsuccessful.
Rescue teams have also battled with the weather. Efforts yesterday were put off due to heavy rain and poor visibility.
Seven people were on board the 84-year-old wooden vessel, which was on its way to Australia from Opua in the Bay of Islands.
Its American owner David Dyche, 58, and his 60-year-old wife, Rosemary were on the vessel with their son David, 17.
British man Matthew Wooton, 35, and maritime technology expert Evi Nemeth, 73, as well as an 18-year-old American woman called Daniella and a 28-year-old American man named Kyle were travelling with the family.
The vessel's emergency beacon has not been activated.
John Seward of Rescue Coordination Centre New Zealand said today's search area was identified during reassessment of past data from earlier searches.
Today's efforts will bring the total area covered by the search to almost 700,000 square kilometres.