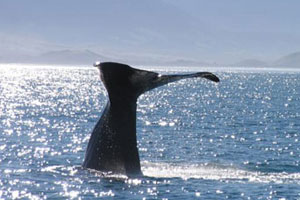 Whale Watch Kaikoura has been named the supreme winner at this year's Responsible Tourism Awards in London.
The international accolades are awarded annually and recognise tourism ventures operating in a way that respects and benefits both the destination and the local people.
Whale Watch Kaikoura's CEO, Kauahi Ngapora, said it was humbling to be chosen as the best from among the world's leading responsible tourism operators.
"This award is a mark of success for not only Whale Watch Kaikoura but to the many people of our community who support the success of our business and provide true hospitality to the many tens of thousands of people who visit Kaikoura," he said.
Whale Watch Kaikoura is owned and operated by Ngati Kuri, a hapu of the South Island's Ngai Tahu tribe. It was formed in response to Kaikoura's declining economy in the late 1980s, when hapu leaders realised that a tourism venture based around the area's sperm whales could hold the key to unemploment problems amongst local Maori.
It's a business plan which impressed the awards judges, who said it was rare to see a tourism initiative "developed from the ground up by a local community to such a successful and grand scale".
"Whale Watch Kaikoura provides consistently responsible whale watching tours with minimal impacts. The founding of the enterprise by four Maori families has demonstrated that the local Maori community can not only grow a considerable tourism business, but, more significantly, use that business to buy back their ancestral land for the benefit of the indigenous people and their cultural identity," they said in naming the venture this year's supreme winner.
Since its launch, Whale Watch Kaikoura has grown to become one of New Zealand's most famous tourist attractions, with more than 100,000 visitors a year taking the chance to get up close and personal with the region's ocean giants.
Twenty-two years on, the company continues to expand.
A sixth vessel was added to its Kaikoura fleet earlier this month and last year it invested $5m in a joint venture with Sea World on Australia's Gold Coast to provide their whale watching.
Whale Watch Kaikoura chairman Wally Stone says the company's ongoing success is down to its sustainability and responsibility as a host.
"Bill Solomon [Whale Watch Kaikoura's founder] instilled a deep respect for the environment and a strong sense of community in our organisation from our first day of operation.
"It is a deep respect for the environment that embraces responsibility for the protection and nurturing of our natural resources to ensure they remain gifts we can continue share."
Another local winner in this year's Responsible Tourism Awards is YHA Wellington, which was named best large hotel.
Judges said the hotel employed a host of innovative initiatives and went "above and beyond regular hotel practice to engage and communicate with their guests around issues of sustainability in an upbeat and inspiring way".
Its 'Tree Planting Day' for guests was among initiatives praised by the judges.