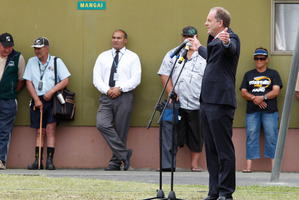 Labour leader David Shearer has claimed to be putting in a lot of work with Maori, but in a new poll only one third of Maori who supported Labour knew he was the party's leader.
The Te Karere Digipoll asked Labour voters who the party's leader was and 35 per cent named Mr Shearer. Sixty-three per cent did not know and two per cent believed it was still Phil Goff.
Of those who did know Mr Shearer was the leader, only 21 per cent said he provided good leadership on Maori issues - 41 per cent disagreed and the others did not know.
Mr Shearer has pledged to get more involved with Maori, including regular meetings with Ratana. Mr Shearer said he had visited marae and met behind the scenes with Maori voters, but said the poll showed he had to reach a wider audience, including appearing on Maori media.
"I guess that's the area I will be doing more work on in future. I have to be a bit more high profile, I guess, in the coming year."
He said he believed he had a fairly good grasp of Maori issues, partly because he had worked for the Tainui Trust Board for almost two years on their Treaty claim and said he was surprised to learn about the extent of the injustices.
"It's something I don't think a lot of New Zealanders recognise actually."
The Te Karere Digipoll also revealed the battle for the Maori vote was tight between Labour and the Maori Party. Just over one third of voters said they would give their party vote to Labour, while 28 said they would vote for the Maori Party. The Maori Party fared better in the electorate vote - 36 per cent said they would give that vote to the Maori Party, compared to 32 per cent for Labour. Hone Harawira's party also made some impact - 6 per cent said they would vote Mana with the party vote and nine per cent with their electorate vote.
The Maori Party has had troubles recently as co-leader Tariana Turia prepares to retire and MP Te Ururoa Flavell challenges Pita Sharples for the leadership- an issue on which the party's Council is expected to meet again over the next month.
The poll was of 1000 Maori voters from the Maori and General electorates and had a margin of error of plus or minus 3.1 per cent.