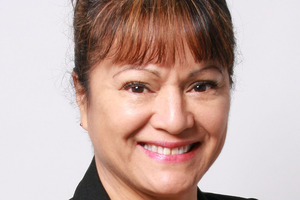 Speculation that former Labour Party candidate Soraya Peke-Mason might try to speak during the formal welcome at Ratana Pa this week has caused a flurry of rumour and ruffled some feathers.
She's aware of the speculation on Facebook but Ms Peke-Mason said she had not formed the intention of speaking, as she attempted to do during the annual Ratana celebrations in January last year.
Only a few women have spoken during the powhiri (welcome) for political parties at Ratana, including former Prime Minister Helen Clark and the late Whetu Tirikatene-Sullivan.
Women are not permitted to speak during most powhiri, as a matter of tikanga (custom).
Ms Peke-Mason attempted to speak at Ratana last year. She had been given a message from Ratana tumuaki (head) Harerangi Meihana, to deliver to the Labour Party. The way was prepared for her by speaker Joe Everitt, who said people should not be afraid of change.
It was a tense few minutes, as she moved forward to speak.
Her granduncle, Te Otinga Waretini, felt that having her stand up to talk in front of him was insulting. He went to her and asked her to sit down, and was going to use his walking stick on her. She was then surrounded by people to stop that happening. She was also challenged by Rangitikei iwi Ngati Apa, she said.
Facebook speculation that Ms Peke-Mason will make another attempt has spread wide in the last few days.
While Ms Peke-Mason isn't planning to speak during the powhiri, Green Party co-leader Metiria Turei is.
She asked the church officials about their kawa (protocol). They debated the matter and gave her permission. She was relieved about that, but said she would also have been happy to say her piece during another part of the proceedings if that was appropriate.
It will be the first time a co-leader of her party has spoken during the powhiri in all the 10 years it has been going to the pa in January. It usually has an orator to speak on its behalf.
Protocol on the marae was a matter for the Ratana movement to decide, Ms Turei said.
Ngati Apa chairman Pahia Turia isn't so sure. He said the founder of the movement, T W Ratana, was from the Ngati Apa iwi and the pa was within the Ngati Apa boundaries and had strong ties with the tribe. Its protocol should still be Ngati Apa, and it was wrong to have a woman speaking.
Complicating the issue of Ms Peke-Mason for him, his mother Tariana Turia is the MP she stood against for the Te Tai Hauauru electorate. Mrs Turia would never have expected to speak on the marae, he said.
For more articles from this region, go to Wanganui Chronicle