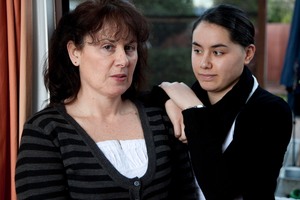 Denise Clarke is overwhelmed that the fight is finally over to have the body of her partner returned to Christchurch, after it was taken to the Bay of Plenty by his family to be buried with his ancestors.
The Supreme Court today dismissed a bid for James Takamore's body to be kept at the Bay of Plenty burial site, against Ms Clarke's wishes.
Mr Takamore was interred at a marae at Kutarere in accordance with tikanga, or Maori customs and tradition, after he died from an aneurism in 2007.
Since then Ms Clarke, his partner and executor of his will, has been in a legal battle to have his body returned to Christchurch, where he lived with her and their two children for 20 years.
Mr Takamore was originally from Taneatua, in Bay of Plenty, and had returned to the North Island only twice in 20 years since moving to Christchurch.
He had specified in his will that he wanted to be buried, but did not say where.
Ms Clarke had intended for him to be buried in Christchurch, but before that could happen the Takamore family collected his body and buried it in Bay of Plenty.
Both the High Court and the Court of Appeal ruled it was unlawful for Mr Takamore's family to take his body, but his sister Josephine Takamore appealed to the Supreme Court.
Ms Clarke said today her reaction was "extreme relief" that the fight had finally come to an end after five years and four months.
The Supreme Court's ruling said Ms Clarke was entitled to have the body exhumed for a reburial in a place of her choosing.
She said that would happen in a matter of weeks.
"I'm hoping, all going to plan, early next year. It won't be months, it'll be weeks. It's not going to drag on another year anyway."
She said she could hardly comprehend it was all over.
"I'll be able to relax a bit more over Christmas now, knowing it's over, knowing I won't have to fight any more."
Mr Takamore would be laid to rest at Ruru Lawn Cemetery, in suburban Bromley, not far from her home, Ms Clarke said.
In her heart, she believed it was the outcome Mr Takamore would have wanted.
"I wouldn't have fought for this long if I didn't (believe that)."
Ms Takamore said she would not comment about the ruling until after she had spoken with her whanau.
The Supreme Court today said there was "significant cross-cultural misunderstanding" between Ms Clarke and Mr Takamore's sister and extended whanau.
The justices unanimously dismissed Ms Takamore's appeal.
Three of the justices said there was common law rule under which personal representatives had both the right and duty to attend to disposal of the body of a dead person.
"The rule becomes operative where there is no agreement or acquiescence among the family on what is to be done, where arrangements have broken down, or where nothing is happening."
They said the representative should take into account the views of those close to the person.
- APNZ