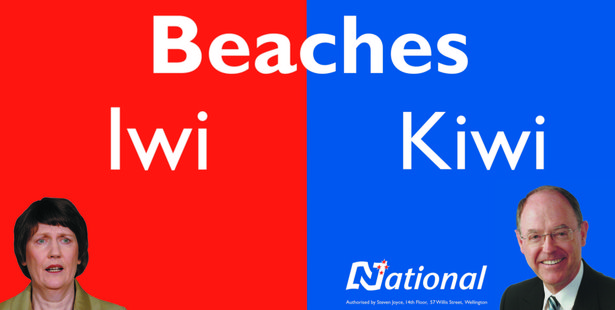 A controversial adman and former marketing head for the Act Party plans to launch a campaign calling for the end of Maori seats and the Waitangi Tribunal - but has already struck trouble.
John Ansell aimed to launch his Colourblind New Zealand campaign, which would try to generate support for stripping from Maori what he considered undeserved privileges, on Monday.
The first meeting was to take place at the Remuera Rotary Club, but club president John Burrowes said yesterday that he was pulling the plug.
Mr Burrowes said that although Rotary invited politicians to speak to its members, it was a firmly non-political organisation.
"It became obvious that the club had been ambushed into providing a platform for a political ad campaign launch," he said.
"There is no way that the Rotary Club of Remuera endorses John Ansell's views, or that it ever wanted to give him a platform to launch his political aspirations."
Mr Ansell said last night it took people "with a certain kind of courage" to host his campaign launch. He was behind race-based election campaigns for the National Party and Act, including the divisive "Iwi/Kiwi" billboards in 2005. He said he expected his new campaign to stir up some opposition.
He had spent the past 12 months researching Treaty history, and believed revisionist historians such as Dame Claudia Orange had been too sympathetic to Maori.
"New Zealanders are very fair, but they are also quite gullible. Over the last 40 years, there's been a mass brainwashing campaign ... by pretty much every organ of state.
"One's forebears are being grossly misrepresented and people are claiming money based on that misrepresentation."
He argued that most major Treaty claims had been settled by 1947 and the creation of the Waitangi Tribunal in 1975 needlessly reopened the process of resolving grievances.
Asked whether scrapping the tribunal would encourage the "vibrant, multicultural" society he was seeking, he said: "I don't know that you can stop the Treaty claims since they're in midstream, but there's got to be some ruling off."
If his campaign was poorly received, he said he would back down and admit defeat: "I could be seriously misinterpreting the desire for change."
The campaign would attempt to generate support for a citizens-initiated referendum which would ask voters whether they wanted "a New Zealand where every citizen has equal rights, lives under the one law, votes on the one electoral roll, and whose taxes are spent by the state according to need, not race".
He would also consider forming a one-issue political party to run in 2014, possibly with himself as its head.
The campaign had raised $100,000, he said, and was aiming for $2 million.