Address:
cnr Manukau Rd and Green Lane West, Epsom
Phone:
(09) 638 6998
Open:
11am-10pm, 7 days
Cost:
$98.10 for five people.
Website:
grandparkrestaurant.co.nz
SET UP & SITE
It's a wretched exterior. But it's not like we'll be eating in the carpark. People are taking selfies by a bright yellow Lamborghini, parked right outside the front door of the Alexandra Park Raceway - home to horse racing and, for the past 12 years, to the Grand Park Chinese Seafood Restaurant. Head inside past the ravenous crowds, past tanks of clambering crayfish, and into a vast otherworld of white-clothed tables, speeding trolleys, free-range babies crawling around on the floor and the chatter. Let's face it, yum char ("drinking tea") is as much about the chaos as it is about chicken feet and cha siu bao. Grand Park, like a giant airport lounge, is heaving.
SUSTENANCE & SWILL
The only thing better than a plate of Canton roast duck at 10.45am is a Bloody Mary to go with it. But the only thing to have right here and now is green tea. Cup after cup of it, the perfect foil to the fatty goodness. It aids the digestion. The trolleys are groaning with fresh and intriguing offerings, they fly past. But - unlike the Morningside bus - there'll be another one coming along very soon. The thing to do at yum char is pace yourself. Of course when you have a hunger on, and you're confronted with the motherlode of salty treats, it's hard to approach this experience with anything resembling restraint. There are 80 different dishes available. First up, beef and scallop dim sum. The "scallopness" of the scallop dumpling is questionable. It tastes more like reconstituted seafood from the Great Surimi province. No matter. Here comes another trolley! Siu mai (pork and shrimp dim sum) are delicious, and coriander and prawn and watercress and shrimp steamed wonton are declared the winners. So far. The selection is exceptional. We choose chilli beans fried with garlic. For a tiny bread and butter plate, it's steep at $13. Still, they're delicious. Not so great are the char siu bao (pork buns), which don't quite have the ideal bun-to-pork ratio. But the icecream dumplings - small balls of freezing goodness wrapped in rice paper - are, according to the small people, dreamy and creamy.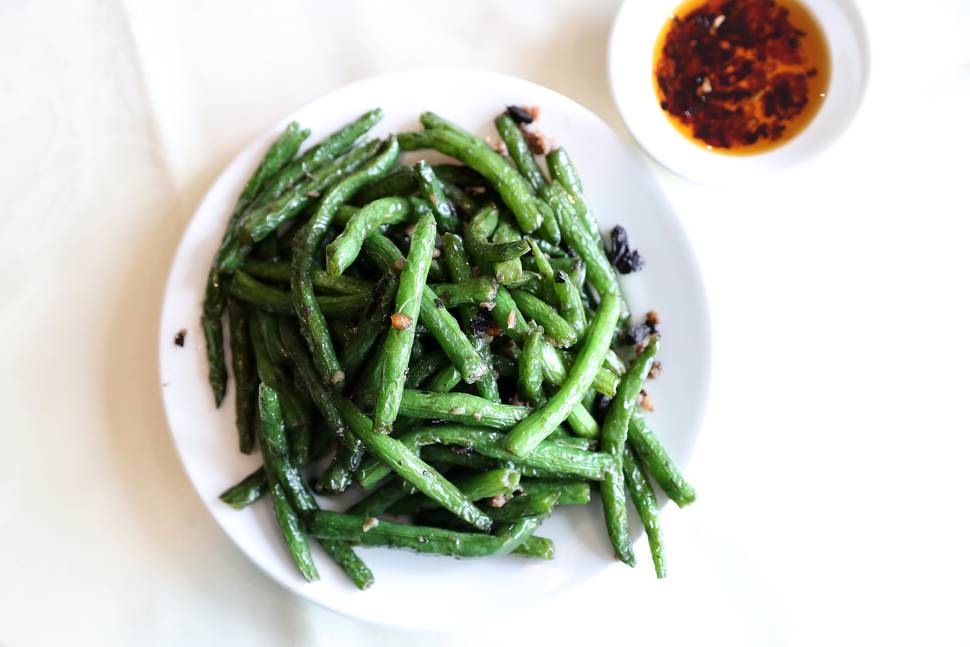 SERVICE & OTHER STUFF
In a word, slick. We booked a table for 10.30am and are seated with lightning efficiency. The wait staff are friendly and they're not so hell-bent on burning a path as to stop and explain those dishes that don't reveal themselves at first glance. Our pot of green tea is refilled again and again; chilli and soy dipping sauces are delivered. A waiter with a walkie-talkie dashes past our table giving reception the low-down on who's about to clear off. As soon as we stand to leave, the table is swooped upon by an army, preparing for the next group in the queue. We pay while the children wait by the tanks, transfixed by the futile clambering of the crayfish.