A group of kind-hearted Italian cops cooked a pasta meal for an elderly couple, after neighbours heard them crying.
According to The Independent, 84-year-old Jole and 94-year-old Michele, from Italy, told police that they were upset at the state of the world after watching the news on TV, and the fact that nobody had visited them in months also added to their sadness.
The couple's neighbours had called police to the house after hearing crying noises inside, and the local police, who look after one of Italy's most notorious mafia hotspots, went over to investigate.
The cops were so moved by the couple's plight that they decided to cook them one of the country's most well-loved dishes - pasta and parmesan, to cheer them up.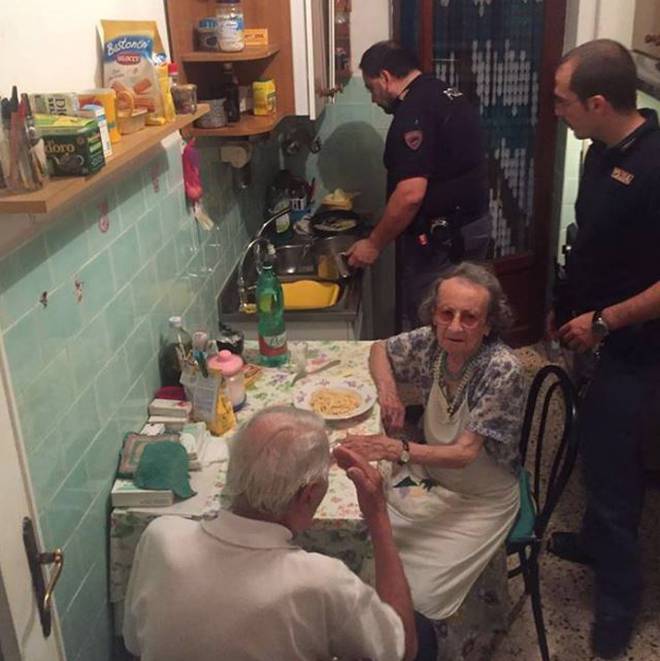 The team posted the unusual callout on the police Facebook page, where it has been shared more than 24,000 times.
In the caption, policemen Andrea, Alessandro, Ernesto and Mirko said the incident was very different to their usual callouts, but no less important.
"It is not always an easy life. Especially when the city is empty and the neighbours are away on vacation. Sometimes the loneliness melts into tears. Sometimes it's like a summer storm. It comes suddenly and overtakes one," said the statement.
"Jole and Michele, they love each other. But when the loneliness is a burden on the heart, it may happen that they lose hope."
The couple told police that Jole had become so upset by the stories on the news that he had started to cry in despair, and the sight of him so distraught had upset Michele.
While thinking of ways to comfort the couple, the policemen decided to cook them a meal.
"They ask for permission to access the pantry," said the Facebook caption. "Improvise a little dinner. A bowl of pasta with butter and cheese. Nothing special.
"But with a precious ingredient: inside it is humanity."
The post has been liked 65,000 times, and has received a flood of comments and well wishes.
"What a beautiful story," one commenter wrote. "How wonderful the police would cook and spend time with the couple. Wish I lived closer. I would visit and cook dinner often. True heroes!"

-nzherald.co.nz