Experts dish the dirt and Kim Knight meets the new owners of New Zealand Fashion Week.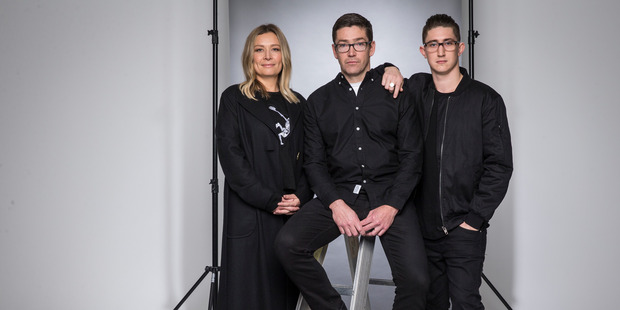 It happens every year. Somewhere between the runway model in the black pants and the runway model in the off-black pants, a fashionable front-rower sighs.
She shrugs (gently, because otherwise that camel coat she never actually sticks her arms in, will slip right from her narrow shoulders) and she declares: "Fashion Week. It's just not the same."
Set your Marc by Marc Jacobs rose gold bracelet watch by it. The annual declaration that the annual event is possibly dead, and is definitely Not What It Used to Be.
To which, the only educated response, is: "Well, duh."
Because if the internet has changed everything from how we pay our phone bills to what television shows we watch, then why wouldn't it have had an impact on the fashion world?
The industry that used to change its pants twice a year now drops new styles into stores on a daily-weekly-monthly basis. The designers who used to get their make-or-break moments via glossy magazines can now bypass print, and go straight to the consumer democracy of digital.
And the public? Well, we're loving it.
"We just all want instant shit," says Rebecca Weinberg, the former Sex and the City costume designer who sat front row at New Zealand's 2002 Fashion Week. "We just want the whore. We want the hooker. We want the quick fix. And it'll never go back to what it was."
Earlier this year, a major report on the future of the New York event summarised the issues that are facing all Fashion Weeks.
"Technology and social media have rewired the fashion system as everyone knows it," it said. "Images and livestreams from shows are accessible worldwide in real time, exposing consumers to designs months before they are available for purchase and providing sufficient time for so-called Fast Fashion brands to manufacture and deliver such trends ... trends and designs can seem out-of-date or stale by the time they reach stores, causing general consumer confusion and fatigue and ultimately hurting designer full-price retail."
Fashion Weeks used to be trade-only events (for media, buyers, stylists and selected celebrities). They featured clothes the public wouldn't see in stores until the following season. It is a risky model. Designers have to fund the production of collections they can't make money off for months and then present them in a 20-minute lights-music-makeup extravaganza that, in New Zealand, can cost anywhere from $10,000 to $60,000. Designers send their clothes down a runway and hope for follow-up appointments from major retailers or an influential stylist. They pray they don't get a bad headline or, worse, ignored.
Today, says Francis Hooper, co-owner of fashion label World, "That wholesale model is broken. Everything is sold online and you're doing business with your wholesale customers all the time over the internet. Old-fashioned dinosaur events still exist in Paris and Milan and to a certain extent they work because they're so iconic and established, but all the other Fashion Weeks ... "
And yet, next month, for the first time in five years, World will show at the New Zealand event. Well, sort of. Because while New Yorkers read reports on How to Save Fashion Week, many of the suggested solutions (in-season "shop now" shows that are open to the public, for example) have been happening here for years.
World will not show a forward season collection. Instead, like Trelise Cooper and other established names, it will send its buy-now summer clothes down a publicly ticketed runway.
"It's for our customers," says Hooper. "A show is just an extravagant way for us to get our customers in the room and for them to just fall in love with us for another season."
His advice to young designers considering showing at Fashion Week?
"I would say why are you doing this? Is it for ego? Do you just want people to say you're f***ing amazing? Well, why don't you just keep the money? But if it's part of a plan, if they have a business plan that says we've got a really good chance of getting a media story or a fashion spread - it's a real risk, you're gambling, but go for it. And, of course, maybe there's potentially going to be a buyer."
Hooper says runway shows are akin to burning money ("a big show would cost a brand $60k after costs") but at the new entrant end, sponsorships allow Fashion Week to offer subsidies.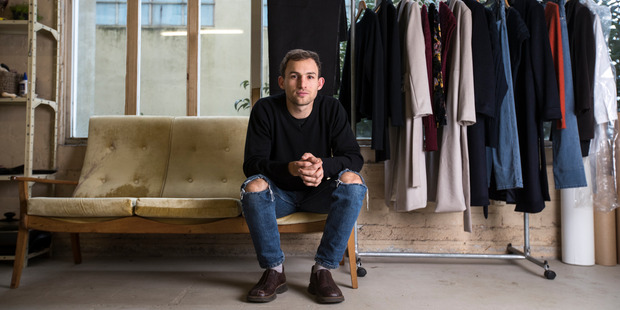 Wynn Hamlyn Crawshaw is a 26-year-old Te Puke-born former land-surveyor, who used to work on large-scale construction projects. In 2014, he launched the label Wynn Hamlyn. This year, he'll spend about $10,000 showing solo in the "contemporary salon" section of NZ Fashion Week.
"It's 100 per cent a marketing tool," he says. "Ingraining yourself in people's minds as a certain thing, a certain luxury, a certain reason to spend $500 on a dress is your presence at things like this, in magazines, or otherwise ... I'm just basically trying to break into those wholesale accounts. The likes of Trelise and Stolen Girlfriends', they can show in-season because they've been doing it so long. They've got all their wholesale accounts and what they're trying to do is drive people in store."
Export figures for the past two decades show that in 1995, New Zealand sent $147m worth of clothes offshore. By 2010, that figure had dropped to $67m and, last year, $41m.
It's hard to quantify what that kind of decrease means for the country's high-end, high-fashion designers. Sending New Zealand-made high-vis workwear to Southeast Asian mining and forestry interests, for example, is not exactly the same as a seasonal drop of clothes from the likes of Kate Sylvester (not showing solo at this year's Fashion Week because she is busy opening two stores in Australia) or Karen Walker (more likely to be seen at New York Fashion Week and whose products are stocked in Kazakhstan, Qatar and 41 other countries).
Dieter Adam, New Zealand Manufacturers and Exporters Association chief executive, says changing market structures, increased scale and competition from low-cost countries have all impacted the fashion industry. The high exchange rate of the past decade has hit margins and made it harder to compete in export markets. And a skills shortage and an ageing workforce compounded problems.
"The industry has reduced as a whole. Those that remain tend to be high-value niche producers, making high-quality products that make use of New Zealand inputs and smart branding and market positioning."
No one is willing to put a collective value on this country's designer fashion - because no one has done the research.
"I really want to get a study funded on what the fashion industry is actually worth to the country," says Dame Pieter Stewart, New Zealand Fashion Week founder.
This year, she may finally begin to pursue that goal. Fashion Week is officially under new ownership. Stewart has retained 50 per cent of the event, but a new company, "Valerie's Inner Circle" has taken the other half. It comprises Vinny Sherry and Anna Hood, of the event's long-term PR company, Campbell and Co; and Lance O'Grady, from digital agency Pocket Square. Nobody's talking dollars, but Stewart confirms it's a staged buy-out. She's agreed to a three-year transition, and the offer was one of three she considered.
"I took the best for the event, and the best for me personally ... I feel, with their experience, they will be able to take the event into new areas, and breathe new life into it in different ways."
Why, in the current climate, would anyone buy into this business?
"We haven't bought Fashion Week," says Sherry. "We've bought into Fashion Week. We think it's really strong now, but it's got really good potential to grow in the future."
Hood: "There is a lot of disruption in how people are purchasing and showing garments. We don't know what Fashion Week will look like in the future, but we're excited to be on the journey. We don't think, in any way, that Fashion Week is going to become redundant. But there will be a revolution. Pieter and Myken [Stewart's daughter and event partner] have led the charge, being one of the first Fashion Week's to bring in the more [in-season] consumer side of things. They've been leading that evolution."
The new partners say it will be very much "business as usual" with a "really fantastic new designer story". They're anticipating the first combined fashion schools graduate show in years. Buyers are coming from Hong Kong, Singapore, Britain, United States and Australia - including David Jones and Myer. Every show will be available to view online.
The 16th annual Fashion Week will run from August 22-28 at the Auckland Viaduct Events Centre. It will be ridiculous shoes and the right shade of lipstick; sneers, stares and All Blacks in the front row (and, for the last two years at least, on the catwalk). It will cost ratepayers $200,000.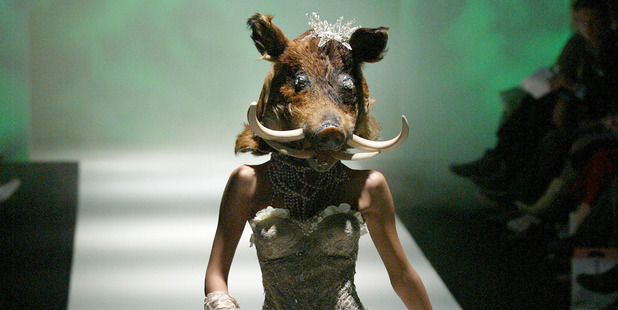 Auckland Council, via ATEED (Auckland Tourism, Events and Economic Development) has invested just over $1m in the event since 2012. Charmaine Ngarimu, head of major events, says the last four Fashion Weeks earned the regional economy $4.8m.
Ngarimu says the event is "part of Auckland's creative landscape". But it's not everyone's cup of Champagne. Morrinsville-based designer Annah Stretton estimates she's shown at 13 Fashion Weeks. She's not coming back this year.
"I've never felt like a valued customer," she told Canvas. "You do business with people you like, and for me it was always just a wonderful gift to our customers, and the team who loved the project, but it just became more and more difficult to do business with Fashion Week."
It's fair to say Stretton has never been a media darling. In 2004, she incited scorn (and headlines) when she sent a model down the runway wearing a taxidermied boar's head.
"I don't mind that," says Stretton. "Twenty-five years into this business, you kind of worry when they stop talking about you."
But: "I've always known that Fashion Week believed we weren't a fit ... but they were kind of happy to take our money. We're always the poor cousin coming up from the Waikato. There was always comments about our customer base, and after a while ... I think fashion exists right across the demographics. Whether you're EziBuy or Karen Walker, we've all got a place to play in this market. I'm challenged by some of the disconnect that happens across the demographics of fashion. We don't support or embrace. We're not nice to each other.
"We all pay the same to be there. Although, we don't, because there's certainly favourites with discounted shows and favourable rates. Nepotism runs deep within Fashion Week veins, but it's always been there and I suppose life's not fair and I know that."
Stretton says it's not the cost (she estimates a show-spend of $40,000) that is a deterrent; nor, she says, is she bitter.
"It was just too hard ... there have been some wonderful memories, wonderful people ... back in the day, it was an exciting place to be, when I was incredibly green and we were at the Town Hall and I was part of my first group show. I was so proud of everyone. That's all part of your growth, isn't it?"


New Zealand is a long way from the fashion centres of New York, Milan and Paris. But, last year, when Viva's associate editor, Zoe Walker, asked a fashion "power panel" about the biggest challenges facing the local industry, one word kept recurring: globalisation.
"Long gone is the self-contained domestic market," said Dianne Ludwig, a strategic business adviser to some of this country's most successful new labels. "Our consumers have a wide range of choices at all price points, as do those in our export markets. This isn't new. It's been heading our way for decades."
Rebecca Weinberg, the costume designer who came here in 2002 and still wears the Zambesi wool coat and the Nom*D military jacket she took home, says she'd like to be able to access more Kiwi product in American fashion showrooms - and, she suggests, maybe that's where the industry should concentrate its efforts.
Weinberg says Fashion Weeks are still relevant. They're just not as much fun.
"Unfortunately, all the celebrities are getting all the hoo-ha now. It's no longer the stylists, it's what celebrity can you get to the show. I think that's what's hurting New York Fashion Week. It's become this shit-show of celebrity. And really, it's not like Sophia Loren is coming to your f***ing fashion show. You're getting the Kardashians."
Front rows are dominated by those who have the biggest social media accounts. Young designers can't match the pace of established brands who release multiple new collections. Nobody chats in the aisles anymore, because the industry is so
fragmented. Fashion has become a commodity - and, says Weinberg, forgotten its humanity.
"But we're human, and clothing is a vessel. It's a vessel of expression. This young generation, they're looking at their phone. They're not connecting. This stuff is going down the runway and no one's even looking. They're looking through a lens, through a small screen."
Why would a designer spend money on Fashion Week when the modern customer is just as happy to look online? "It's not always about the pieces," Weinberg says. "It's about the presentation. It's the vehicle. It's the truck that drives into the fireworks. It's the a-ha moment."
- Canvas