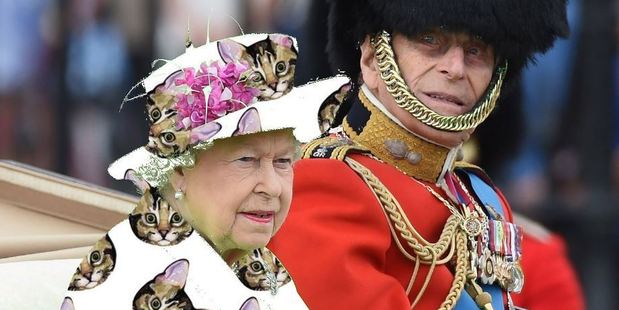 If you weren't going gaga over Princess Charlotte's adorable wave during the Queen's birthday celebrations, then you were surely squinting in the neon glow of the birthday girl's outfit.
Choosing a violent shade of green to celebrate in, the Queen's outfit has become a popular topic on social media, with many noting the colour closely resembles that of a green screen used by film makers.
As such, Twitter users have taken the liberty of reimagining her Royal Highness's outfit with projections ranging from psychedelic patterns to cats and emojis.
Here are some of our favourite versions of the Queen "wearing a green screen":
Queen: "One rather likes the chroma green outfit."
Philip: "Seems fine darling, what could possibly go wrong?" pic.twitter.com/kAFbykwIQG

— James (@jrawson) June 11, 2016

READ MORE:
• Princess Charlotte's wave of affection
• Queen Elizabeth: 90 years of style
• How the Queen reacts when people don't recognise her
• Happy Birthday Ma'am: The Queen turns 90
Green Screen Queen ?? #TroopingtheColour #queenielimegreenie #happybirthdayliz #thequeen #queenat90 pic.twitter.com/NEZ786YCCc

— Rose Pilkington (@Rosetpilkington) June 11, 2016
RT @annkozma723: I am having way too much fun with the Queen's green dress! #doink #fsdtech #tosachat #GreenQueen pic.twitter.com/9Z1IQ7hI3i

— DoInk Tweets (@DoInkTweets) June 12, 2016
And rather than suggest a print to project, Twitter user @nicolasimonds drew comparisons between the queen and Kermit the Frog.
Separated at birth #greenqueen pic.twitter.com/BGIZepbgoh

— Nicola Kemp-Simonds (@nicolasimonds) June 11, 2016