Could our challengers be getting the hang of the Bikini Body Guide in week five? While Tina cleverly modifies Kayla's ab workouts to make them work for her, Tessa has found strength in exercising with a friend, and treating herself to the odd burger.
Tina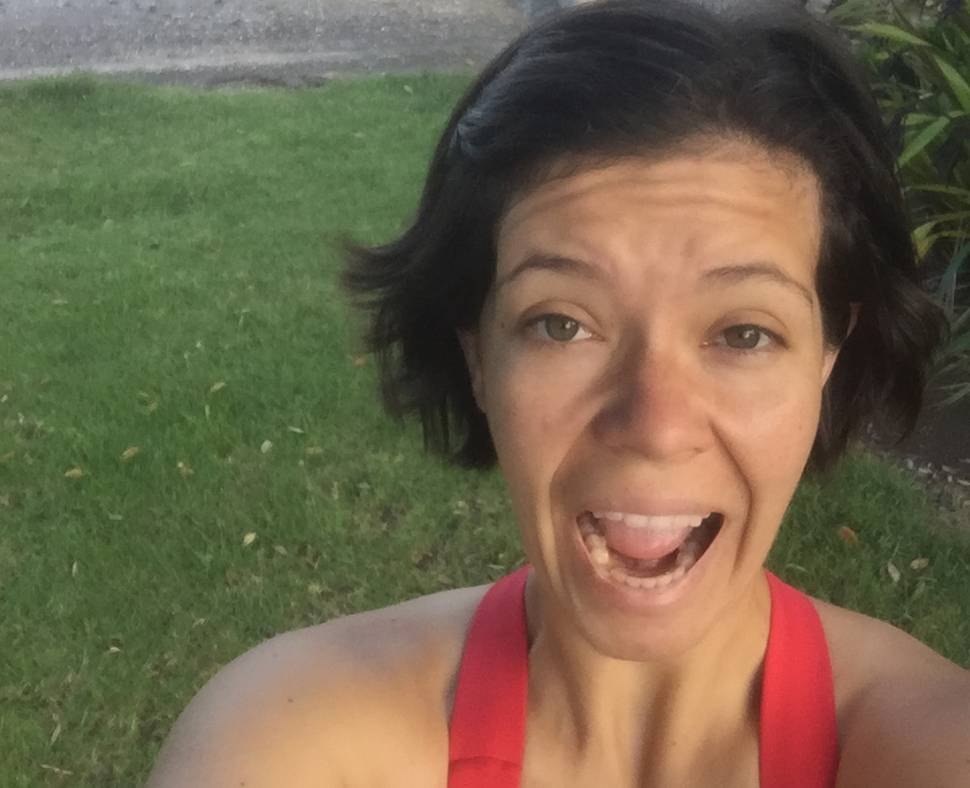 Another week down, another optional 600 rep challenge completed.
These challenges are just another strength session that the Sweat app has started throwing into the weekly schedule since week three. Last week's 600 rep challenge focused on legs. This week's session focused on abs, involving many of my foes: Burpees and ab bikes and tuck jumps and more burpees.
I dislike ab exercises. They're misleading. Many of the exercises happen on the floor, tricking my brain into thinking that there is a nice, relaxing lay-down session forthcoming. This often starts with a ceremonial flop to the floor, before reality sets in and I complete a number of soul-crunching ab bikes.
My ab strength isn't great. It took me about 40 minutes (and lots of breaks) to complete the 600 rep ab challenge, with a lot of modifications. No Bosu ball for burpees? I did regular burpees. Couldn't handle 30 reps of a certain exercise? Then I chopped up the reps into three mini-sets of 10 to complete 30.
What made the 600 rep ab challenge even more fun: It was a breezy day when I completed it. Bits of grass floated up into my mouth mid-burpee. Gross.
If it weren't for those 600 rep challenges, I would start to get bored with the Sweat app's workout regime. Maybe that's unfair. You can't really stay that bored for long because the Sweat app updates itself with new strength workouts every Monday. The 600 rep challenges introduce the user to a wider variety of exercises than a typical 28-minute strength session would, making the workouts a bit more interesting.
I realise I have the responsibility of not getting bored with Kayla's regime. The boredom is more a result of me not mixing up my cardio workouts, which have consisted of walking, walking and more walking. I live in a walker-friendly neighbourhood, walking is easy cardio. But there's so much more an active person could do during an Auckland summer. The warm evenings provide an opportunity to have a swim in the bay. I could rent a bike and cruise around the suburbs.
I'm keen on getting started on the high-impact cardio workouts, which I have heard about from Tessa and the app hasn't prescribed yet (although I do see more strength sessions integrating skipping rope into the circuits). I appreciate that the app makes you build up some muscle and endurance before the high-impact workouts, but I'm keen to see how my body will change once these sessions make their way into the regime. Maybe I'll regret saying this in weeks' time when Kayla works my butt off.
Until then, week five of the Sweat app should have no surprises: Another three strength workouts (I see plyometrics), four low-intensity cardio sessions, no 600 rep challenges. That schedule is manageable, but it's up to me to keep it interesting.
My results
How I'm feeling:
Fine. Not sore. A little bored?
Tunes to listen to:
Chet Faker Pandora station
Favourite workout:
Anything targeting legs
Least favourite workout:
Anything targeting abs
Tessa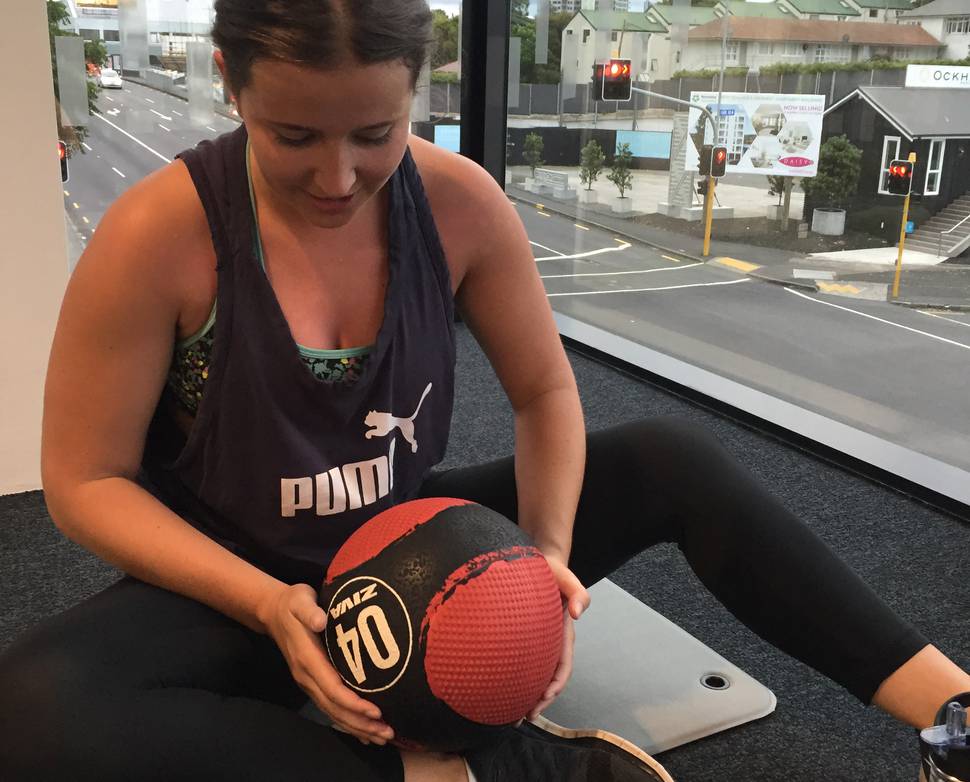 One of the best things about Kayla's workouts is that you can do them with a friend. Whether or not you can keep up with that first is another story, but it's easier to sweat as a duo doing burpees than it is going for a run up Mt Eden (not fun, trust me).
What makes working out with a buddy so enjoyable? 1. You're not alone in the torture of your lack of cardiovascular fitness; and 2. Your friend's facial expressions when she's trying to do press ups will leave you in fits of laughter. Some of you may think I'm mean for laughing so hard but I almost gave myself more of an ab workout than Kayla's guide. However, if you imagine doing press ups alongside your best friend while she looks like she's halfway between head banging at a concert and attempting to keep herself afloat then you would be losing it too.
As we move on to week five - yes we've made it this far - the expected plateau is setting in. It's not exactly like I've "peaked" or am at a really fit level (because trust me after two long weekends, I'm really not) but I'm finding the workouts more bearable to get through, including fewer breaks to catch my breath and more sets through each interval.
My LISS sessions have included a one-on-one pilates session from Crave Fitness and two Hatha classes (yoga exercises designed to align skin, muscle and bones) from the team at Studio Red. If you count hiking to a beach and doggy paddling around for a bit then I guess you can say LISS is pretty enjoyable.
On a more intense level, my HIIT for the week, like I said, has been somewhat easier compared to week three - especially when it comes to those jump lunges. My legs are toning up, and I am one more kilogram down. I was pretty happy with this considering I spent most of the long weekend enjoying the sun (or lack of) on the beach - feeling slightly more Bikini Body ready...
My results
How I'm feeling:
I felt better before the long weekend where I decided it was appropriate to consume two lots of McDonald's. However, one kilogram down and three lots of compliments on my bikini body at the beach has boosted the ego - not that I needed it.
Workout music:
Sweet Disguise
by Jupiter Project for LISS sessions and
Get Low
by Dillon Francis for HIIT sessions.
Favourite exercise:
Tricep dips because they're so hard but I want to get ripped arms.
Least favourite exercise:
Laydown pushups, I literally do not have enough strength to push myself up from the floor in a press up position. It just isn't going to happen.
-nzherald.co.nz