What? How did it suddenly become the middle of January? To ease the shock, I suggest reaching for some tastebud-distracting deliciousness that'll send you back to September in seconds flat.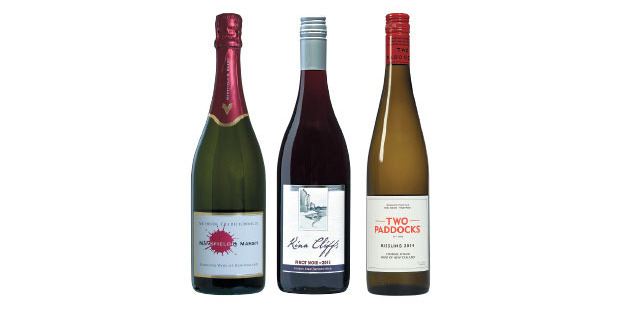 Mansfield & Marsh Methode Traditionnelle Sparkling Wine NV
This is my new favourite bargain bubbly. It's lifted and lemony on the nose, awash with creamy, nutty notes and has some delicious bready, biscuity complexity on the finish. There's even a smidge of apple and oatcake happening too. Superb value here, and if the label was spruced up a tad, I'm sure it'd happily grace many an ice bucket this summer.
Price: $14.95
Kina Cliffs Nelson Pinot Noir 2013
The instant I stuck my nose inside the glass, I was met with a whoomph of cherry-chocolate, smoked coconut, dried herb and peppery plushness. It's been 16 years since Julie and Alistair Ashcroft purchased their 4.5ha block overlooking Tasman Bay and 12 since the vines took hold in the ground, yet they've only recently appeared on my radar. Clearly I've been missing something because gently-grippy, juicy, raspberry-driven pinots like this are a joy to drink. It will only improve through 2016, too.
Price: $30
Two Paddocks Central Otago Riesling 2014
How winemaker Dean Shaw manages to stuff the equivalent of an entire citrus orchard into a 750ml bottle is beyond me, but if you're a fan of anything resembling a crunchy-crisp, lime and apple smash-up, that also manages to be stylish and elegantly put together, then this has your name on it. This delicious riesling has intense concentration and a hint of spice on the finish. Superb with sweet and sour fish slathered in fresh chilli and coriander.
Price: $32
- Canvas
Yvonne Lorkin is a wine retailer, wine writer and member of the Wine Writers of NZ.