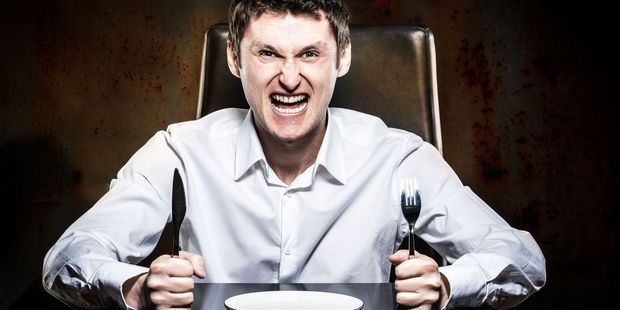 This is the third instalment in my long-running saga about what irritates diners at restaurants. As the festive season approaches, it's time to once again highlight some of the worrying issues that you might face when venturing out to eat in our fine city.
Read more:
• Restaurant gripes Part I
• Restaurant gripes Part II
Cumbersome booking systems
Last Friday we decided to try to make a last-minute booking for a table for two at Masu in Federal Street. My husband rang and left a message. We decided to drive there anyway. En route we received a voice message from the restaurant that this would be fine.
And that, one would have thought, should have been the end of it until we turned up at their doorstep. But no. The message left for us requested that we call back to confirm that was suitable. Now quite why they would need us to confirm that a booking at the date, time and place we had originally requested was acceptable to us was a bit of a mystery. Wouldn't it have been better for them to have said: "Please let us know if it's not suitable"? But anyway, we played their game and rang back to leave a message to say that was all good. (Such establishments don't seem to answer calls in person.) We have no idea if that would have triggered a further series of voice messages and returned calls because thankfully our arrival at the restaurant shut down all remote communication avenues.
Excess noise
I've not been especially bothered by extremely loud dining environments; we go out so early that we're home before the raucous crowds descend. But, by all accounts, excessive noise levels at restaurants annoy many people. Chairs scraping on the floor, loud music, bad acoustics and rowdy groups can make conversation difficult and, of course, ruin the ambiance most people find conducive to a pleasant night out.
Ill-timed clearing of plates
Earlier in the year one reader wrote: "My gripe is when a waiter or waitress clears the plates of the other people at my table while I'm still eating ... I don't want to feel rushed to finish. And don't ask me if I'm finished when my knife and fork are at '9.15' and there's still food on my plate!"
On the other end of the scale is the under-staffed restaurant in Hawke's Bay that serves pudding before removing the main plates. The first time we were asked to order desserts at a table full of dirty plates, used cutlery and leftovers I was taken aback but now, familiar with such unconventional local customs, I don't bat an eyelid. It's the tasty tucker that saves them - as well as the golden opportunity to wheel out the old "You can't complain about the service here" line.
Oversized wine glasses
Restaurants intent on pretending that a thimble-sized dose of wine constitutes a "glass" would be well advised to not pour it into vessels with the proportions of a goldfish bowl. So far I've managed to resist saying "Make mine a double" on such occasions but I just know my restraint will evaporate at some stage.
Too much good oil
I'm not complaining about the free bread some places still serve but I wish they wouldn't always present it with oil. There's inevitably some artisanal story about the provenance and superior quality of the oil that makes us feel like complete plebs when we ask if we could please have some butter. (It could be worse: at least we don't request margarine.)
Wait-people without order books
It's said to be the mark of a fine establishment but I can still get nervous when the wait-staff fail to write down our orders. Some make it seem really natural and so give us confidence in their powers of recall. But other waiters/waitresses appear to visibly struggle as they commit your list of requests to memory. Sometimes I have to restrain myself from offering to scribble it down for them or confirm it by text. Of course, no harm is done until the wrong food is produced. Then we just grin and think: "We could have told you that wouldn't end well."
Well designed toilets
In the interests of mixing things up, this one is a bouquet rather than a brickbat. Some of Auckland's new restaurants have designed their restrooms with a most user-friendly layout that does away with the bog-standard gender divide. Offering a series of individual unisex toilets accessed through a central "cloakroom" is an inspired approach which means there will never be queues snaking out of the women's toilets while the men's are unoccupied. Full marks are awarded for this welcome innovation.
Debate on this article is now closed.