When all else fails, a gold timepiece has that special Midas touch.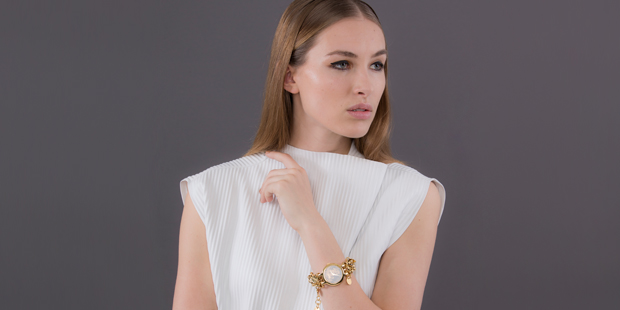 There's an ancient allure to gold. The array of gold watch options available right now only reinforces the mantra: if in doubt, keep it classic. With several designers channelling that boy-meets-girl style of dressing with boxy silhouettes, relaxed suiting and sporty fabrics, it's little wonder that accessories have followed suit.
Whether it may be an extraordinary cocktail ring or a carefully edited selection of oversized stacked bangles, the need for chintzy cheap jewellery is showing signs of waning as a return to wearing more considered jewellery is encouraged.
Man-style gold watches fall into this category, channelling the refined tastes of style icons such as Yves Saint Laurent's muse Betty Catroux, who created her own style by way of all-black outfits (YSL of course) and classic gold jewellery - watch included.
That idea of black and gold working together harmoniously is one that has worked well for the Citizen "Eco-drive" watch (#6). This perpetual calendar watch features 36 diamonds, along with many other functions including month, day and date display, 12/24-hour time and a low charge indicator.
Whether you choose a white T-shirt and jeans or a black skirt suit for the office, the versatility of the "Tokyo" chronograph watch by Versus (#2) is another ideal option. Who better to highlight gold's showmanship than Versace? Several gold watch options are available that command attention from both the designer's main line and its diffusion line, Versus. For a less-is-more approach, the clean lines and minimalist styling of the "City" watch from Calvin Klein (#5) make the point that large gold watches needn't be restricted to mafia wives or gangsters.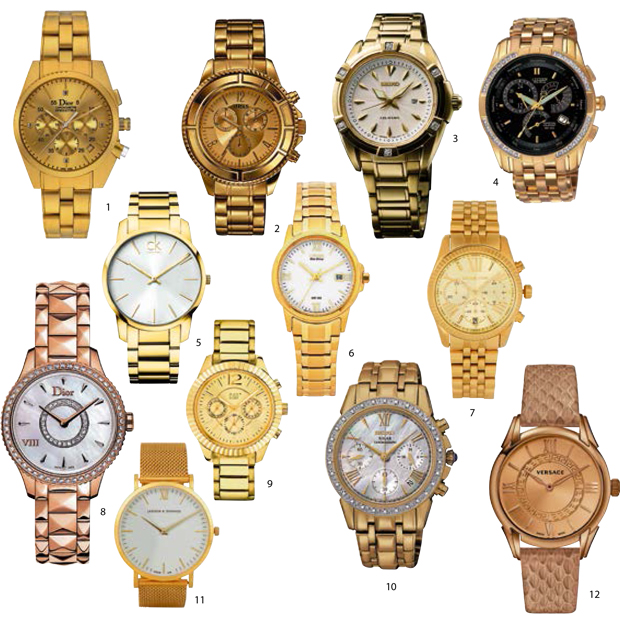 1. Dior "Chiffre Rouge 103" chronograph watch, $93,340
2. Versus Versace "Tokyo" chronograph watch, $629, from Walker & Hall
3. Seiko "Velatura" watch, $1150
4. Citizen "Eco-drive" watch, $1100, from Stewart Dawsons
5. Calvin Klein "City" watch, $460
6. Citizen "Eco-Drive Date" watch, $450, from Stewart Dawsons
7. Michael Kors chronograph watch, $430, from Net-a-Porter
8. Dior "VIII Montaigne" watch, $57,335
9. CAT chronograph watch, $379, from Walker & Hall
10. Seiko "Le Grand Sport" chronograph watch, $1150
11. Larsson & Jennings watch, $414, from Net-a-porter
12. Versace "Dafne" watch, $1690, from Walker & Hall.
Stylist: Dan Ahwa
Photographer: Greg Bowker
Hair and makeup: Katie Melody Rogers using M.A.C Cosmetics
Model: Chloe Price from Red 11
Stockists
Calvin Klein +61 3 8844 3300 Christian Dior (09) 356 6920 Citizen citizenwatches.co.nz Maurie & Eve (09) 378 0072 Net-a-Porter net-a-porter.com Seiko (09) 415 5668 Stewart Dawsons stewartdawsons.co.nz Walker & Hall walkerandhall.co.nz