No more will you have to rummage in the cupboard, writes Greig Morgan.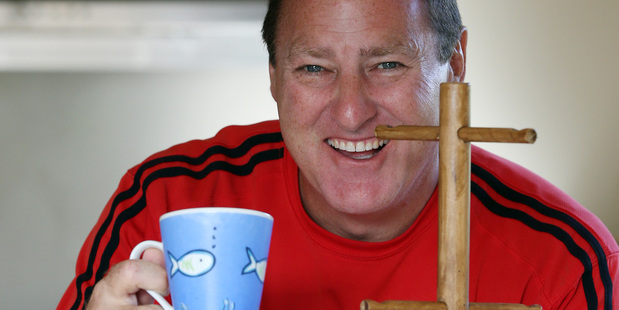 This coffee cup tree-stand is a handy place to hang your mug without hunting through the cupboards. Not only is this stand simple to put together, it would also make a great addition to your kitchen's decor or the perfect gift.
Step 1
With the aid of a square, scribe a pencil line on your piece of 150mm x 20mm at 150mm and cut on the waste side of the pencil line. This will give you a square shape for the base of your cup stand. Now, scribe a pencil line about 5mm in on the top and 5mm down -- this will give you a guide to work to when planning a 45-degree angle. Chamfer right the way around the base.
Step 2
As before, use a square before cutting your 25mm dowel to length, including the smaller 12mm dowel. We made the 25mm dowel about 460mm long and the 12mm dowel 180mm long before sanding and smoothing off the ends.
Step 3
Mark the centre position on the stand both ways, and then measure about 145mm up from the bottom, middle and top. With the aid of a clamp to help hold the dowel in place, drill a 12mm-hole in the centre of each pencil mark. For the hanger, measure in about 5mm at either end and notch out about 3mm deep by 15mm to suit your cup handle and sand the curved notch smooth.
Step 4
Apply glue to the hole before sliding the dowel hanger through with equal distances either side of the stand, with the notch facing up. Secure the stand by pre-drilling a 4mm hole in the centre of the base before adding glue and screwing in from the underside.
Step 5
Sand the completed stand and remove any glue, then wipe to remove dust using a damp cloth before applying stain or paint to suit your decor.

Materials
150 x 20mm dressed untreated pine
25mm diameter dowel
12mm diameter dowel (hanger)
40mm screw
Wood glue
Wood stain
Tools
Handsaw
Tape measure
Pencil
Plane
Screw gun
4mm & 12mm drill bit
120-grit sandpaper
Paintbrush
Clamp
Square