Not even the winter cold can take the heat out of the inner city's temperature, as Paul Lewis discovers during a three-venue dinner around watching a luncheon play.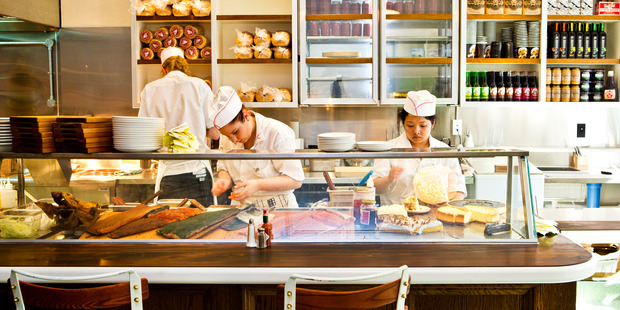 "Who ordered the tongue for dessert?" demanded Al Brown at the Federal Delicatessen.
Our friend Irena cautiously put up her hand. She'd not tried pickled tongue for years and had a sudden hankering.
"Good girl," said Brown. "Not enough people appreciate this; fine choice." He swept away.
We were at Brown's newer venture, next door to his well-known Depot opposite Sky City.
Roadworks in Federal St seem to have been disrupting the area forever but it would take more than heavy machinery to keep us away from the Deli.
Brown's homage to an old school, New York-style, Jewish delicatessen is a treat all by itself but that's not why we were there. Dessert was why we were there. Specifically cheesecake.
"Best cheesecake in New Zealand," the waiter smiled when we had first sampled it. Really? But he was right, it is possibly a contender for best cheesecake anywhere.
We had been at The Basement theatre that night, watching The Luncheon, Aroha Awarau's clever play about the fraught lunch date between 1958's best supporting actress Oscar nominees starring, among others, Jennifer Ward-Lealand and Hannah Banks.
It's just a short walk up the hill - and it was the end of a culinary restaurant crawl. We'd parked the cars at Britomart and decided to do an entree-main-dessert journey across three different Auckland venues.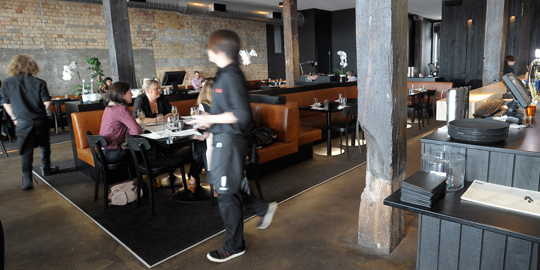 Ebisu Restaurant, Quay St, Auckland. Photo / Jason Dorday
First, Ebisu, where we enjoyed Japanese beers and wine and small plates, including edamame and duck rolls. We were going to stop somewhere further up towards The Basement for the main course but the lure of Baduzzi - the meatball-inspired Italian on North Wharf in the Wynyard Quarter - won. Crayfish meatballs? Oh yes, please.
It was a long walk to The Basement from there but you need to walk meatballs off and we knew we'd head for the nearby Federal Deli when The Luncheon was over. The kitchen is open until 1am and, even for those who do not delight in Jewish cuisine like Reuben sandwiches (easily the best I have tasted outside the US), latkes, lox and matzo ball soup, it's a lively spot; you get the feeling the staff would keep the joint open way past closing if there were enough people enjoying themselves there.
As we walked back to the cars, there was a splinter group movement to head to The Roxy & Everybody's in Fort Lane; the DJs there would be warming up for dance time. In the end, we decided against it. Well, you try dancing on a diet of duck rolls, meatballs, cheesecake, beer and good wine. Not to mention tongue.
We were content to have seen The Luncheon at dinnertime and enjoyed a meal that transported us to Japan, Italy and New York. The city was just beginning to heat up. We had finally surrendered after a terrific night out - but for many others there was plenty more to see and do.
The show never stops
Four other city events not to be missed:
• My Country: Contemporary Art from Black Australia at Auckland Art Gallery until July 20.
• Wildlife Photographer of the Year, at Auckland Museum until August 3.
• NZ International Film Festival screening at The Civic from July 17-August 3.
• Aotea Square Ice Rink, open until July 30.