Gone are the days when women wore hats, gloves and high heels to town. Even the Beatles wore collars and ties during an Auckland mayoral reception in 1964. What happened to that formality? We look at the slow death of dressing up in New Zealand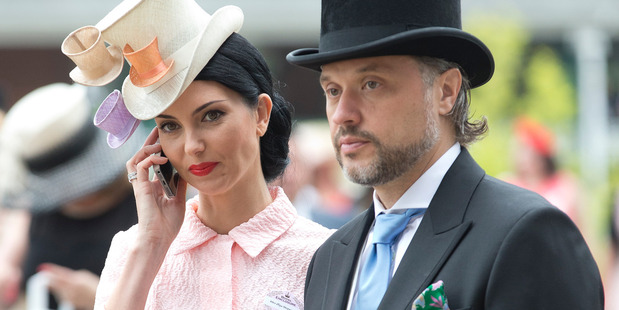 There was a time when one of the best parts of going to the opera was admiring the finery of the audience at halftime, the long, slinky gowns and cocktail dresses, smart jackets, dinner suits and bow ties. Not so today. At the final dress rehearsal of La Traviata at Auckland's Aotea Centre last week, the dress code was jeans, T-shirts, open-necked shirts and sweatshirts. The occasional shimmer of silk was lost amid the denim and sneakers.
A few people held out, wearing long dresses or tailored suits and ties, but they were hopelessly outnumbered by the mass of casually dressed opera-goers who, quite possibly, made those who had dressed up feel out of place.
Changing times and fashions have eroded the chance to dress up, to the point where going formal is the exception rather than the rule.
As dressing for a visit to a restaurant, the opera or theatre, or a work Christmas party gradually became more casual, those with wardrobes full of formal attire clung to dress-up occasions — weddings, christenings, funerals, the races, balls and cocktail parties.
But it seems that even for these occasions, our sense of sartorial propriety has been eroded. This month, in an article in Britain's Daily Telegraph, historian, journalist and dandy Nick Foulkes bemoaned the demise of formal dressing.
He referred to a recent case in which the Duke of Edinburgh showed his age by saying to digital consultant Antony Mayfield: "You can't be very successful. You're not wearing a tie."
Foulkes went on to say that a suit and tie are no longer a mark of social or economic success; the super-rich are now more likely to prefer casual attire.
Take Facebook co-founder Mark Zuckerberg, for example. He was voted the worst-dressed man in Silicon Valley by GQ magazine in 2011. He may be worth billions, but he dresses like a cash-strapped student. Or Kim Dotcom — his trademark look is a zip-up hoodie, baseball cap and Crocs.

Dressing for royalty in 1954 ... formal clothes and a bouquet for the Queen.
So what happened to the smart Kiwi dresser?
Andreas Mikellis, the head of fashion and textiles at AUT University, says the casual fashion trend began in the late 90s, particularly in the workplace. Since then it has become accepted practice for employees to dress more casually.
Donald Trott is uniquely placed to comment on the changing dress code among the opera set. He has had a 36-year career in the Auckland opera scene — he is now the benefaction fundraiser for NZ Opera — and says styles have changed dramatically over the period.
"Throughout the 1970s and 80s, the opera was a very sophisticated occasion — men wore tails and tuxedos. And when Aotea Centre opened in the 1990s people started dressing very smartly for the occasion as well."
Now, he says, men in particular have stopped dressing for the opera.
"A regular attendee recently told me he was very disappointed that while the women dressed beautifully, the men didn't."
Trott always dresses well when attending performances.
"I feel it's a tribute to the cast who have worked slavishly to bring the opera to life. They have put so much effort into what they do so I feel it's not hard for me to acknowledge this by dressing well."
Dining out was once another opportunity to give the best suits and party frocks an airing. But casual dressing seems to now be the norm here as well.
Restaurateur Tony Astle doesn't pull any punches about the dress sense of those who visit his Antoine's restaurant. "We see everything here, from smart casual to simply dreadful," he says.
The restaurant has been a staple of Auckland's fine-dining scene for 40 years and its silver-service and immaculate waiting staff have long drawn the wealthy and well-dressed.
But Astle has seen big changes in what is considered suitable attire to wear out over the four decades he has had Antoine's.
"When we started in 1973, everyone dressed up to go to — the waiters wore tails, the male diners wore dinner suits. And the 1980s were really the heyday of formal dressing — everyone was trying to outdo each other."
The 1987 stock market crash changed everything, he says.
"After the money went, we really started noticing people dressing more casually."
Astle is not shy about showing the under-dressed the door.
"Why would you arrive at a fine-dining restaurant in a T-shirt and shorts?" he asks. "And I recently had to turn away someone who was wearing a Swanndri. People say I'm dictatorial, but you have to maintain standards."
Tony Stewart, owner of upmarket restaurant Clooney, says it is hard to enforce a dress code. He feels that Clooney's elegant design tends to determine the way diners dress.
"Fine food and fashion tend to go hand-in-hand. We find older people tend to dress more formally; the younger diners are more casual — but in a smart way."
People appreciate not being pressured into dressing formally, he says, and this makes for a more relaxed, convivial atmosphere.

Dressing for royalty in 2014. Photo / Getty Images
Even the most celebrated of luxury cruise-ship lines has succumbed to the dress-down trend. Cunard has long been known for its posh dress code — requiring formal attire (black tie, long gowns) for evening dining on board. But last year, it said it was relaxing this code: there will be two to three formal nights a week, but the remainder of the nights will be "informal" — in an exclusive kind of way.
P&O Cruises has also seen a change in style on its ships. Senior vice-president Tammy Marshall says 50 years ago, cruising tended to be dominated by longer voyages peppered with lots of formal dinners.
But over the past 20 years this has changed, and passengers have become more casual.
"Of course we still have dress codes in our restaurants and bars on P&O Cruises' ships but a few years ago we decided to rename our formal nights as cocktail nights, which really reflects the changes in New Zealand society."
Some might feel formal fashion is on the way out, but one of New Zealand's top menswear creators sees no sign of suits disappearing.
Murray Crane of Crane Brothers says there is still a demand for good-looking well-made suits.
"Our suit market is still incredibly strong, especially for professionals in the banking, finance, law and accounting sectors," he says.
But Crane did notice a move towards more casual attire in the workplace about six years ago, especially in creative jobs such as advertising. He feels that rather than being a sign of increased casualness in fashion, this is the result of men having more choices.
"We have seen a huge growth in the popularity of the Gubb & Mackie range. This is 'smart casual', for want of a better phrase: blazers and trousers in high-quality fabrics.
"I think men are very aware of how important it is to look good in the workplace. They are still wearing well-made, quality clothes."
AUT's Mikellis has noticed a new generation of nostalgia-oriented suit wearers returning to a sharp, tailored look, inspired by TV shows such as Mad Men. And he has a theory on why very wealthy men are moving away from wearing suits.
"It could be a negative response to the fact that the hand-made look of tailored, bespoke suits has been a major fashion trend for a number of seasons and extensively mass-produced by industrial fashion brands."
Former fashion photographer Jill Peterson, now owner of the Corset Store in St Kevins arcade on K Rd, has been involved in the fashion industry for years. She says women still like to dress formally on special occasions; this is reflected in the popularity of her shape wear for occasions such as balls and weddings.
She remembers the move away from daily formal dressing began in the late 60s and early 70s, but she has noticed a resurgence of interest in structured and tailored clothing.
"I really feel that in recent years women have taken more of an interest in what they wear and the shape of their bodies."
Back at the opera, Trott has reason to hope a new generation is starting to realise the joys of formal dressing. He was heartened to see the men and women in the youth wing of the Friends of the Opera, for under 25s, donning their best clothes for nights out at Auckland Opera.
"It was wonderful to see them making such an effort, and showing the older generation how it should be done."
However, Mikellis says that although the suit and tie still have a place in formal dressing, he wonders if it's time to think of new options.
"The male tailored suit as we recognise it today has been part of Western culture since the late 19th century. Maybe it's time to consider some alternatives."
Dressing up and dressing down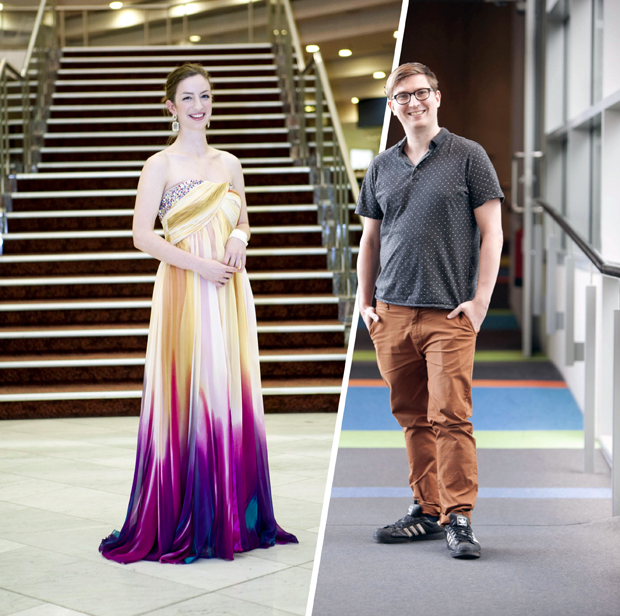 Opera buff Yvonne Lipski loves to dress up grandly; while software developer Paul Prestidge likes casual attire and workplaces. Photos / Chris Loufte
Yvonne Lipski
Yvonne Lipski loves to dress up. The 23-year-old Auckland woman is an opera buff and is involved with Young Friends of the Opera — a group charged with educating under-25s about the joys of opera.
Lipski relishes dressing up for the nights she spends at the opera. "Opera is a grand affair and it gives you an excuse to dress up beautifully."
She has encouraged her friends, male and female, to dress well for their nights at the opera. They have willingly obliged. "The girls get really excited about having an opportunity to drag out their ball gowns," she says. "And the guys like to dress up, too — we see a lot of tuxedos."
The Young Friends of the Opera sit together over three to four rows, aiming to make an impact. "We kind of want to show everyone else up," she says with a laugh.
Opening nights (such as the opening of La Traviata, where she is pictured) are the best for people-watching, Lipski says. "People tend to go to more of an effort on opening nights — you see lots of ball dresses, opera gloves, seriously nice outfits."
Her older sister Magda is Lipski's style guru. "She has always dressed well and encouraged me to get out of trackpants," she says. Lipski likes wearing bright colours.
Her multi-hued ballgown, bought in the US, stood out in a sea of black evening wear on the opening night of La Traviata.
Dressing up for formal events is well worth the effort, she says. "You don't get many chances to dress up like this any more, so you need to take advantage of them."

Paul Prestidge
Auckland software developer Paul Prestidge wouldn't dream of turning up to work in anything other than jeans and a T-shirt. Based at the head office of Pumpkin Patch, the 29-year-old software developer shares an office with about 30 other IT professionals, most of whom dress in a similar style.
"My manager wears a dress shirt and pants, but no tie," he says. "And some of the more senior staff wear suits."
Prestidge has worn casual work clothes for most of his working life, with a few exceptions. "I have had to dress formally for a number of temporary contracts," he says.
But he prefers workplaces that have a more casual approach. "I think casual dress makes everyone feel more comfortable."
Having to wear a suit wouldn't be a deal-breaker for future work opportunities, but he says the atmosphere in a workplace would play an important role in his decision-making.
And he feels that the freedom to wear what he wants makes a workplace more enjoyable. "I do feel that work places with a casual dress code produce a better work environment."
Nevertheless, Prestidge and his co-workers adhere to unwritten rules around dress code. "No one would wear shorts to work in summer," he says. "And there are definitely no Jandals."
At a recent funeral for an ex co-worker, he was surprised to see his colleagues in full formal attire. "It was a terribly sad event, and everyone dressed up appropriately. But I have to say it was odd to see all my workmates in something other than casual wear."