At the age of 56, Josephine Poland thought her days changing nappies and wiping noses were over.
But her life changed when she stepped in to take over fulltime care of 18-month-old triplets after they were taken away from their mother, who was suffering from addiction issues.
They are now 8 years old and call her Mum.
Ms Poland was one of dozens of caregivers at children's charity Variety's annual Heroes for Kids Luncheon at Mangere's Villa Maria Estate this week. It offers an afternoon of fun and pampering for caregivers.
Ms Poland, who lives in Port Waikato, southwest of Pukekohe, is the triplets' great-aunt and had already raised four children of her own when she took them in.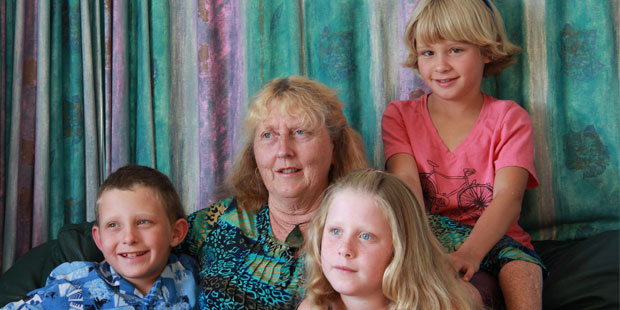 Josephine with her three children.
"As they grew up, they became my kids," she said. "I told them that my name is Grandma, 'But you can call me Mum if you want to'."
She does not seek any congratulations for her work.
"There's lots of unusual families. You get over being proud of yourself very fast," she said. "You're on a huge emotional rollercoaster and the kids are just the least of it."
Ms Poland raised the triplets by herself after the death of her partner in 2010.
She says both she and they know they are safe and in the right place now.
Ms Poland was nominated to attend the lunch by the charity Stand Children's Services, which offers home and school social services for children aged between 5 and 12.
"[She] presented as very dedicated and committed," said charity spokeswoman Pat Edwin.
She said Ms Poland was one of many grandparents they encounter who choose to take children into their care and give them all the love they deserve.
Variety chief executive Lorraine Taylor said: "I don't think we thank people enough.
"This is about grandparents stepping up in their golden years to take care of their grandchildren."
Next story: Willie Apiata steps up for Big Buddy plan